Magazine tabloids tend to treat women like zoo animals instead of people.
Created by college students Erin Valentine and Ashley McGetrick, a new project called "Breaking News: Deconstructing Entertainment Journalism" highlights the rampant sexism in entertainment media by revealing what headlines would look like if tabloids treated female celebrities like real people.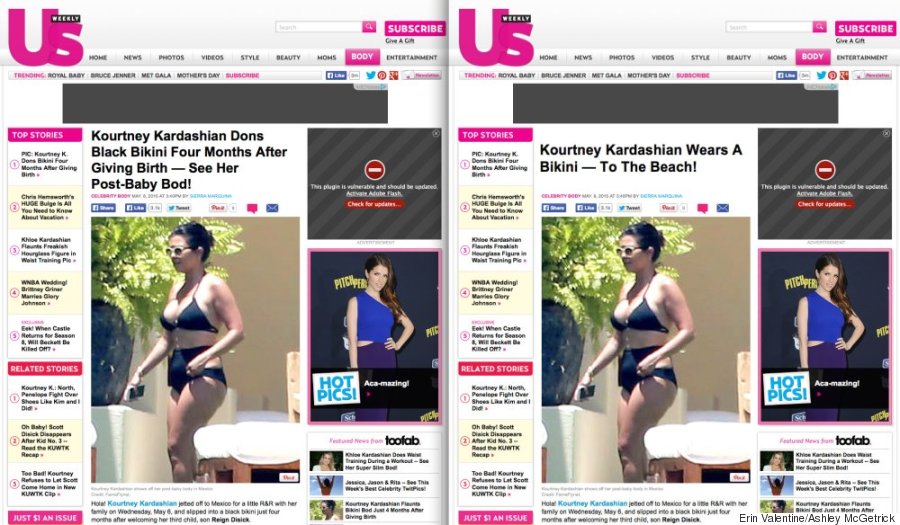 Click here to enlarge image.
The two seniors at Elon University created the project for their capstone course on women and gender in the media.
"By translating these headlines to be more feminist-friendly, we hoped to call out sexist and unequal cultural influences, especially of celebrities, in the media," Valentine told The Huffington Post. "Sensationalized tabloid media preys on the female body and an idealized version of 'womanhood.'"
Headlines involving female celebrities are notorious for objectifying women, Valentine said. From shaming women who go makeup-free to criticizing women for wearing gym clothes, tabloids subject women to a lot of sexism that men rarely experience.
"Whether in line at the grocery store, scrolling through Facebook or flipping through television channels, it is hard to miss headlines worshiping, critiquing or questioning the physiques and lifestyles of female public figures," Valentine said. "While seemingly harmless, these hyped up headlines attack more than just the people pictured."
It's not only the headlines that are implicitly sexist, but the stories written about these female celebrities. Instead of writing about how hard-working Blake Lively is when she attends dozens of events in one day, stories are written about how many outfits she wore.
Valentine noted that consumers do have an impact on these headlines. "They should also acknowledge that they have the power to push back as viewers and as the audience to encourage more feminist-friendly entertainment journalism," she said.
Check out some of Valentine's and McGetrick's feminist-friendly headlines below.
PHOTO GALLERY
This Is What Media Headlines Should Really Say About Women
Head over to Valentine's and McGetrick's project website to read more.
BEFORE YOU GO
PHOTO GALLERY
Magazine Covers Of Powerful Women