Temples of the Church of Jesus Christ of Latter Day Saints are known for being surrounded by lush greenery -- flowers, trees, and wide, expansive lawns.
But the immaculate lawn of The Los Angeles California Temple is turning a rough, dry brown.
When temple officials heard Gov. Jerry Brown call for a mandatory cut in urban water use to combat California's ongoing drought, they decided to stop watering the iconic 98,000 square foot lawn.
Brian Sheffield, the temple's general manager, said that the decision was "difficult" for his team, but that it seemed to be the best option. "Since we had such a large lawn, we thought that we want to set an example," Sheffield told HuffPost. "Not only for ourselves, but also for the community."
California is heading into its fourth consecutive year of drought. This January was the driest on record. The drought has already killed 12.5 million trees, according to Reuters.
Religious leaders have been at the forefront of calling for sustainable water usage. The Rev. Canon Sally G. Bingham is president of the faith-based environmental activism organization Interfaith Power and Light. She told HuffPost that religious leaders in the state are both raising awareness from the pulpit and making changes to their buildings' practices -- using compostable plates and cups instead of dishwashers, for example, or installing high efficiency low-flush toilets.
The Christ Cathedral, which is run by the Catholic Diocese of Orange, has cut back the amount of water distributed on its lawn areas and is using a biodegradable green spray on the brown patches to make the lawn look green.
Swami Mahayogananda, a resident of the Hollywood Vedanta Society's monastery, told HuffPost that he and several brothers have been collecting water in buckets and are using it to flush toilets or water the temple's gardens.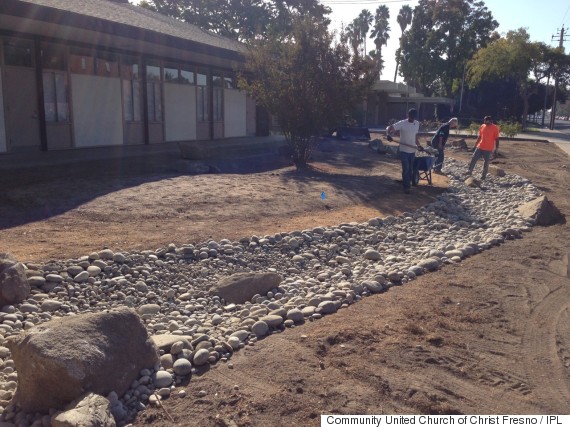 The Community United Church of Christ in Fresno allowed its lawn to dry up under the sun's rays, then decorated it with boulders and desert plants.
The Community United Church of Christ in Fresno responded to the drought by xeriscaping their church grounds. The process involved solarizing the church's lawn area by sealing the grass with a layer of plastic. The sun's rays shrivel and cook the grass. Then, the area is covered with mulch and an entirely new landscape is created using decorative boulders and drought-tolerant plants.
"We are stewards of God's creation and there's no better place to have that modeled and demonstrated than in the congregation facility itself," Bingham told HuffPost. "So that the facility is serving as an example to the community."
BEFORE YOU GO
PHOTO GALLERY
California Drought