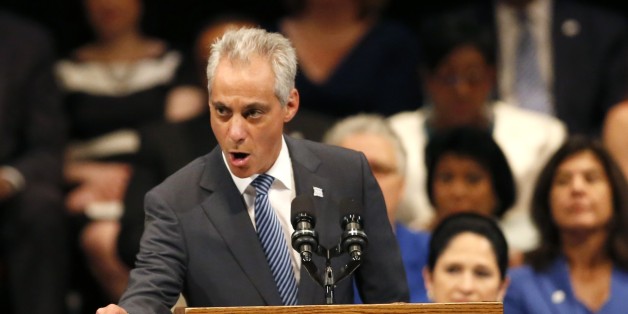 CHICAGO -- In a move that shows why Chicago's called "clout city," United Airlines may have used its political influence to strong-arm Chicago Mayor Rahm Emanuel (D) into reversing his stance on an air-travel measure he previously supported.
The Open Skies policy allows international airlines to fly to the U.S. without any governmental interference in establishing routes, airfare and other operational factors, as a means of promoting economic competition, tourism and trade. Over the last two years, several Middle Eastern airlines, including Emirates and Qatar Airways, have signed agreements with the city of Chicago to offer nonstop flights between Chicago's O'Hare International Airport and Dubai and Doha. Emanuel has heralded the presence of the airlines, as they contribute to his desire to mold Chicago into a larger economic force and a more "global" and "world-class" city. Part of this involves ambitious goals to increase international tourism to the city.
"Chicago is pleased to welcome Qatar Airways' world-class service to our global gateway, O'Hare International Airport. This new international air service creates additional economic opportunities, increases tourism to our city and strengthens Chicago's cultural and business connection to the world," Emanuel said in a press release in 2013.
Likewise, he championed the arrival of Emirates last year as another addition to Chicago's "global connectivity."
But this month, Emanuel appeared to abruptly pull his support from these airlines. In a letter to the U.S. Departments of State, Transportation and Commerce, he called out the Middle Eastern airlines for allegedly violating the Open Skies agreements, saying that their governments unfairly subsidize the airlines. The letter went on to argue that the subsidies provide too much competition to American airline companies -- including United, which is headquartered in Chicago and has its largest hub at O'Hare.
"In the past, I welcomed the expansion of Qatar and Emirates to Chicago's O'Hare International Airport and while I continue to encourage international airlines to bring their flights and passengers to our city, I have serious concerns about the unfair government subsidies and benefits the Middle East carriers have received and the impact on the U.S. airlines," Emanuel wrote in the letter.
Emanuel, who was sworn in for a second term on Monday after facing a runoff election, has received almost $140,000 in campaign donations from United since 2011.
In addition to its political clout, United is a major contributor to Chicago's economy, employing over 14,000 people in the city, including in its downtown corporate office and its O'Hare operations office. United is also a member of Emanuel's World Business Chicago, a collaboration between the city and Chicago-based corporations to promote economic globalization.
However, the company is angling toward a larger presence in Houston. Last week, Crain's Chicago Business reported that Houston's Bush Intercontinental Airport broke ground on an expansion to the airport, supported by United. Ever since United merged with Houston-based Continental Airlines in 2010, the company has started basing more of its major flights in Houston.
Emanuel's office and United could not be reached for comment.
CLARIFICATION: A previous version of this story suggested that Chicago signed an Open Skies agreement with two foreign airlines; the city welcomed the carriers, but the agreements are signed by the federal government.
BEFORE YOU GO
PHOTO GALLERY
Mayors Of America's Largest Cities