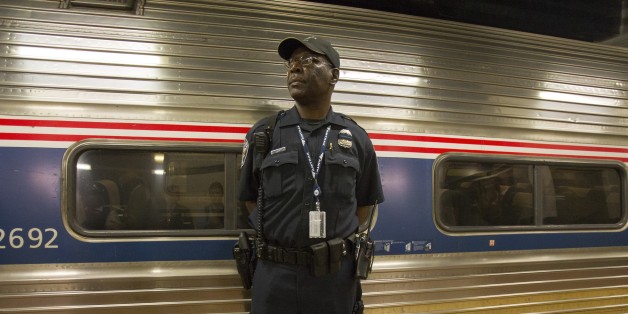 The Amtrak crash in Philadelphia that killed eight people last week hasn't shaken most Americans' faith in the overall safety of train travel, a new HuffPost/YouGov poll finds.
While 87 percent of Americans say they've heard at least something about the accident, most don't see it as indicative of broader danger. Eight in 10 say that train travel is generally safe, and 34 percent that it's very safe. Just 12 percent called it not very or not at all safe.
There's not much recent polling from before the crash to provide a comparison, but those results suggest that even in the immediate aftermath, concerns about rail safety haven't grown significantly. Twenty years ago, a Gallup/U.S. News & World Report/CNN poll found relatively similar results, with 90 percent calling trains a safe mode of transportation, and 7 percent saying they were unsafe.
The number of train accidents and derailments -- though not of train-related deaths, including people who were hit by trains -- has dropped in recent years, with the Federal Railroad Administration declaring in 2014 that "rail has never been safer." As is frequently pointed out after deadly crashes, train travel is statistically far safer than driving a car.
This fact, it turns out, isn't lost on the public. Americans are about equally likely to call train and car travel at least somewhat safe, but overall they think trains are safer: Americans were 21 points more likely to say trains are very safe than they were to say the same of cars.
Most Americans, especially outside of the Northeast, aren't regular train commuters. But 85 percent of those who ride at least occasionally say that they personally feel safe doing so.
The HuffPost/YouGov poll consisted of 1,000 completed interviews conducted May 14-15 among U.S. adults using a sample selected from YouGov's opt-in online panel to match the demographics and other characteristics of the adult U.S. population.
The Huffington Post has teamed up with YouGov to conduct daily opinion polls. You can learn more about this project and take part in YouGov's nationally representative opinion polling. Data from all HuffPost/YouGov polls can be found here. More details on the poll's methodology are available here.
Most surveys report a margin of error that represents some, but not all, potential survey errors. YouGov's reports include a model-based margin of error, which rests on a specific set of statistical assumptions about the selected sample, rather than the standard methodology for random probability sampling. If these assumptions are wrong, the model-based margin of error may also be inaccurate. Click here for a more detailed explanation of the model-based margin of error.
BEFORE YOU GO
PHOTO GALLERY
Amtrak Train Crashes In Philadelphia Killing 6