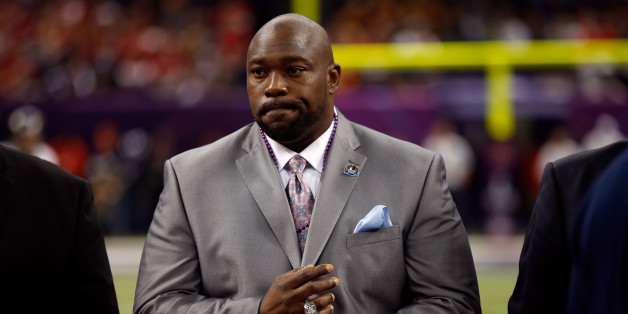 Former NFL star Warren Sapp has pleaded guilty to two misdemeanors after he was arrested in a Phoenix hotel in February on charges of soliciting a prostitute and assault.
Sapp entered a plea agreement on Monday, his lawyer told ABC 15 Arizona. TMZ reports that the former Tampa Bay Buccaneers defensive tackle must complete a "Prostitution Solicitation Diversion Program" and anger management classes in order to avoid jail time. Sapp has already completed the diversion program.
Sapp was slapped with the solicitation and assault charges in February after police say he shoved the women to the ground because of a fight over money.
According to a police report cited in February by the Arizona Republic, Sapp met the 23- and 34-year-old women at the bar of the downtown Renaissance Hotel in February before inviting them to his room. There, he paid them each $300 to perform oral sex on him.
"I put $600 on the table and everybody got naked," Sapp is heard saying in a video of his interrogation.
The 23-year-old woman complied and Sapp filmed the encounter on his cell phone, while the other woman hid in the bathroom and didn't come out until she heard Sapp with the other woman arguing, according to the Republic.
The outlet said that one of the women told the police Sapp grabbed her by the arm and threw her out of the room while she was collecting her belongings, knocking both women down into the hallway.
Following reports of the arrest, Sapp was promptly dropped by the National Football League Network, where he had been an analyst since 2008. Sapp was in Phoenix to cover the Super Bowl for the network.
Arizona statute requires a mandatory minimum of 15 days in jail for solicitation convictions, but Sapp caught at least one break, according to Phoenix criminal defense attorney Blake Mayes.
"[Sapp] lucked out because he was in the city of Phoenix, which means he was in [the jurisdiction of] Phoenix Municipal Court," Blake told The Huffington Post. "Phoneix is unique in that it's the only justice court that offers diversion [programming] for first-time and occasionally second-time offenses for both johns and prostitutes."
"He didn't get a better deal than someone who wasn't Warren Sapp would have got in that situation," Blake said.
BEFORE YOU GO
PHOTO GALLERY
The Westeros Football League