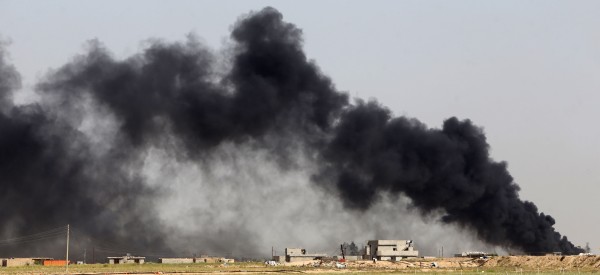 TOP STORIES
To get The Morning Email, HuffPost's daily roundup of the news, in your inbox, sign up here.
BREAKING DOWN ISIS' FINANCES Despite hopes that falling oil prices would devastate the organization's cash flow, the group holds assets worth over $875 million. [NYT]

ELIZABETH WARREN DETAILS ALL OF PRESIDENT OBAMA'S BROKEN TRADE PROMISES There is no love lost in this trade feud. [Zach Carter, HuffPost]
BOKO HARAM'S RAPE STRATEGY "Hundreds of women and girls captured by Boko Haram have been raped, many repeatedly, in what officials and relief workers describe as a deliberate strategy to dominate rural residents and possibly even create a new generation of Islamist militants in Nigeria." [NYT]
HILLARY CLINTON EMAILS TO BE RELEASED IN JANUARY 2016 According to the State Department. [AP]
SUICIDE RATE FOR BLACK YOUTHS SKYROCKETS "The suicide rate among black children has nearly doubled since the early 1990s, while the rate for white children has declined, a new study has found, an unusual pattern that seemed to suggest something troubling was happening among some of the nation's most vulnerable citizens." [NYT]
WHITE HOUSE MOVES TO PROTECT THE HONEYBEES While it seems like a small problem, the disappearance of bees could devastate the farming cycle in the United States. [WaPo]
WHAT'S BREWING
CLITERACY "This is the overdue and under-told story of the clitoris." [HuffPost]
DC NAMED FITTEST CITY Indianapolis named least fit city. Clearly, we need to visit. [USA Today]
TAXICAB PANIC BUTTON PROPOSED The legislation in New York City has yet to be finalized, but the idea of a red alert button has resonated for an industry roiled by change and rape allegations. [NYT]
CRY EASILY? You could be what is termed as a "highly sensitive person" or HSP. [WSJ]
BIG BREAK IN 'SERIAL' CASE "The Maryland Court Of Special Appeals on Monday handed down a major ruling in [Adan] Syed's favor that effectively grants him a new evidentiary hearing and opens the door for testimony by a key witness favorable to Syed's case." [HuffPost]
WHAT'S YOUR FAVORITE AD OVER THE LAST TEN YEARS? YouTube wants to know. [YouTube]
YOU'RE KILLING THE PLANET When you drink bottled water, and you know it. [Gizmodo]
SAY GOODBYE TO THE IN-STATE TUITION BREAK And all your money. [NYT]
WHAT'S WORKING
THE PEACE EXPERIMENT "The experiment, conducted in two dozen countries by an organization called Seeds of Peace, began with a question: what type of impact could you have on young people from opposite sides of intractable conflict if you gave them the time and space to get to know each other? In other words, what would happen if you brought the two of us -- an Israeli and a Palestinian -- together on neutral ground. Could we overcome bitter lines of division and mistrust by engaging each other in open, honest, face-to-face dialogue? Would we form connections that would survive the crucible of the conflict?" [HuffPost]
ON THE BLOG
KEN BURNS' COMMENCEMENT ADDRESS "And even though lightning still isn't distributed right, try not to be a fool. It just gets Mark Twain riled up. And if you ever find yourself in Huck's spot, if you've 'got to decide betwixt two things,' do the right thing. Don't forget to tear up the letter. He didn't go to hell -- and you won't either." [HuffPost]
BEFORE YOU GO
~ This app may solve all your scheduling problems.
~ Barack Obama had quite the first day on Twitter.
~ Bristol Palin has called off her wedding.
~ Eighty-two percent of our foreign service officers are white.
~ Drunk shopping -- it's as great as it sounds.
~ When it rains spiders.
~ "Gilmore Girls" news: Logan Matt Czuchry revealed on his reddit AMA that he thought Rory shouldn't have chosen his character, either.
~ 2000s teens rejoice: Leighton Meester and Adam Brody are expecting!
~ The lazy person's favorite workout moves.
~ When you live on Mars.
~ Disney is over the selfie sticks.
~ How much a woman's period costs her over her lifetime.
~ How addicted are you to your smartphone?
~ Why you want to know everything when bad things happen to rich people.
~ The "wife bonus."
Send tips/quips/quotes/stories/photos/events/scoops to Lauren Weber at lauren.weber@huffingtonpost.com. Follow us on Twitter @LaurenWeberHP. And like what you're reading? Sign up here to get The Morning Email delivered to you.