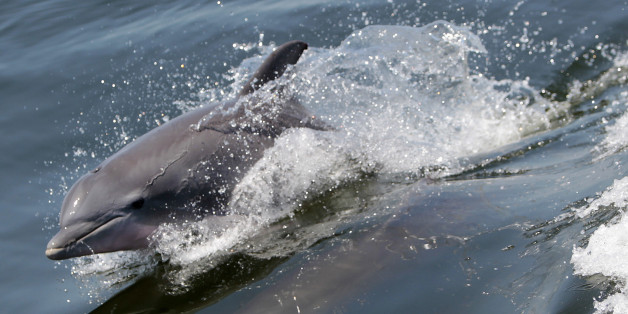 A dramatic increase in dolphin deaths in the Gulf of Mexico is directly linked to the Deepwater Horizon oil spill, scientists concluded in a report published Wednesday.
Following the 2010 explosion on the drilling rig owned by Transocean and leased by British Petroleum (BP) and the subsequent spill of 4.9 million barrels (205.8 million gallons) of oil into the ocean, scientists have documented 1,281 dead and stranded cetaceans, primarily bottlenose dolphins, along the northern coast of the Gulf of Mexico.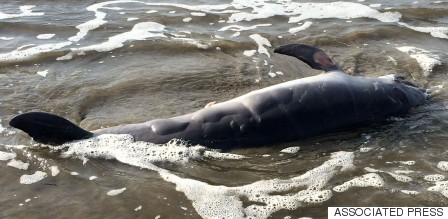 In this photo taken May 10, 2015, a dead dolphin washes ashore in the Gulf of Mexico on Grand Isle, Louisiana.
In 2011, Louisiana saw 163 dolphins stranded, while Mississippi had 111. By comparison, each of those states saw an average of 20 such incidents per year from 2002 through 2009, reported the National Oceanic and Atmospheric Administration.
One in three of the dolphins recovered from the coasts of Louisiana, Mississippi and Alabama suffered from otherwise rarely-seen adrenal lesions consistent with petroleum product exposure, according to a report from NOAA's Office of Response and Restoration. In Barataria Bay, Louisiana, one of the areas hit hardest by the oil spill, half of the dolphins showed similar lesions. In contrast, only 7 percent of stranded dolphins found outside of the Deepwater Horizon spill zone have had similar adrenal gland damage.
The adrenal gland produces and regulates a wide range of hormones, which, in turn, help manage basic bodily functions including metabolism and blood pressure.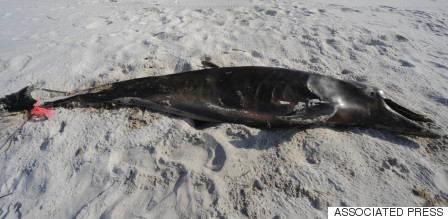 A dolphin lies on dead on a beach on Horn Island, in the Gulf of Mexico, Tuesday, May 11, 2010.
"Animals with adrenal insufficiency are less able to cope with additional stressors in their everyday lives," Stephanie Venn-Watson, the study's lead author and a veterinary epidemiologist at the National Marine Mammal Foundation, explained, "and when those stressors occur, they are more likely to die."
In addition to adrenal gland damage, researchers found 22 percent of dolphins suffered from serious bacterial pneumonia. In 70 percent of those animals, the lung disease was severe enough to have "either caused or contributed significantly to death," the researchers noted.
Outside of the spill area, only 2 percent of dolphins had similar lung disease.
"The evidence to date indicates that the Deepwater Horizon oil spill caused the adrenal and lung lesions that contributed to the deaths of this unusual mortality event," Venn-Watson told the New York Times. "We reached that conclusion based on the accumulation of our studies including this paper."
BP responded to the report by questioning the link between dolphin deaths and the oil spill.
"This new paper fails to show that the illnesses observed in some dolphins were caused by exposure to Macondo oil," Geoff Morell, BP's senior vice president for U.S. communications and external affairs, told AFP.
"According to NOAA, the Gulf 'unusual mortality event' (UME) began in February 2010, months before the spill. ... Even though the UME may have overlapped in some areas with the oil spill, correlation is not evidence of causation," Morell added.
CORRECTION: An earlier version of this story stated BP owned the Deepwater Horizon. The drilling rig was in fact leased by BP from Transocean.
BEFORE YOU GO
PHOTO GALLERY
Gulf Oil Spill-- Looking Back