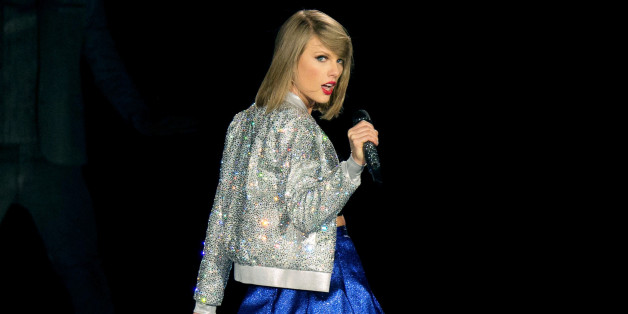 Once upon a time, probably in a castle not that far away and actually in Rhode Island, there was a beautiful princess and wildly talented business woman named Taylor Swift who didn't think she was a feminist.
She said it was "too strong" a word, and that she didn't "think of things as guys versus girls." This was during the F-word dark ages, that awful chunk of time (circa 2012 and 2013) when famous ladies couldn't be interviewed without being asked where they stood on the issue. This cultural moment came from a (seemingly) well-intentioned effort by certain members of the media to have powerful women proudly identify as feminists. Unfortunately, things quickly devolved into shaming and finger pointing at anyone who got the definition of the word wrong. The question turned into a long-running joke wherein being a feminist simply meant figuring out the secret code word for "equality."
Eventually, more and more famous women publicly declared themselves feminists. They were led by Queen Beyoncé, who worked not only to normalize but to glamorize feminism, saving it from stigmatization. Beyoncé, too, had struggled to understand the F-word. She called the word "extreme" in a 2013 interview with British Vogue, only gaining the will to unleash her feminist magic after watching some TED talks.
The shift in the Pop Culture Kingdom happened so quickly that those upset by the lack of celebrity feminists began to worry about feminism's potential trendiness. Beyoncé's influence was powerful, but there was concern that dark forces of advertising, led by Dove soap, might co-opt her strength to sell. ("When fashion treats such important issues as trends, we risk losing the fight when they slip out of vogue," Allison Davis wrote for The Cut.)
Perhaps even more concerning was the fear that these newfound feminists would not do anything with their feminism. They might just wear the feminist badge and do little to make real change. Would they just use the label and allow the sudsy domination of women-friendly body wash brands to lay claim to the movement? Had Beyoncé's glittering bodysuit been used in vain?
Feminist bloggers discussed a future led by the Good Witch of The Southern Hemisphere known as Lorde. And then they saw the answer. Princess Taylor Swift, educated by her lady-in-waiting, Lena Dunham, was cast free from the dark curse of Not Knowing What Feminism Is. She came forward with her new knowledge, and each day she regained a bit of the strength she had lost during the F-word dark ages.
Soon, she rose up and overcame the misconceptions which had kept her from realizing her potential. "Misogyny is ingrained in people from the time they are born," she told Maxim magazine, breaking the spell once and for all. "So to me, feminism is probably the most important movement that you could embrace, because it's just basically another word for equality." The fair royal didn't just declare herself a feminist, but used her platform to promote understanding.
And then Princess Taylor Swift lived happily ever after and made artisanal jam with Karlie Kloss and not necessarily any men at all. The End.
Middlebrow is a recap of the week in entertainment, celebrity and television news that provides a comprehensive look at the state of pop culture. From the rock bottom to highfalutin, Middlebrow is your accessible guidebook to the world of entertainment. Sign up to receive it in your inbox here.
Follow Lauren Duca on Twitter: @laurenduca
BEFORE YOU GO
PHOTO GALLERY
Taylor Swift