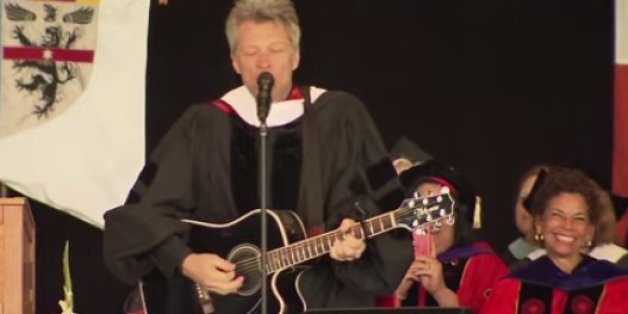 Recent college grads might feel like they're livin' on a prayer, but if they graduated from Rutgers University-Camden on Thursday, at least they got their own Jon Bon Jovi song.
Everyone's favorite '80s rocker, there receiving an honorary doctorate in letters, serenaded the class of 2015, CNN reports. Rutgers was honoring the singer for his work in establishing The Jon Bon Jovi Soul Foundation, which seeks to fight hunger and homelessness.
"I tried to buy you all a gift," he told the students, according to MyFox8. "But I wasn't sure of sizes or favorite colors."
That's when he whipped out a guitar and began his never-before-heard jam "Reunion," which Bon Jovi said he wrote for the occasion.
OK, so it's no "You Give Love A Bad Name," but what is?
Contact The Author
BEFORE YOU GO
PHOTO GALLERY
Jon Bon Jovi