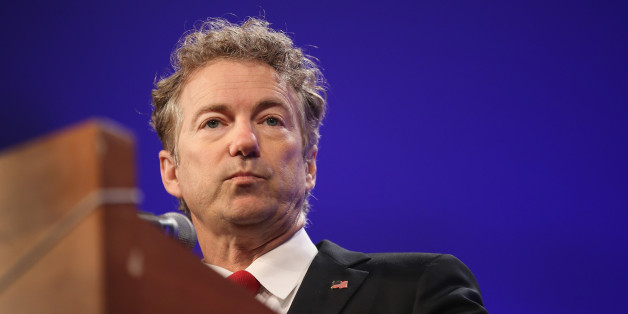 Sen. Rand Paul (R-Ky.) proposed a measure on Friday that would shift budgetary power from Congress to the executive branch.
The "Bonuses for Cost-Cutters Act" was an amendment to legislation known as Trade Promotion Authority, which would give President Barack Obama the ability to "fast-track" international trade deals. Senators didn't vote on the measure as they rushed to finish work on TPA before a holiday recess.
Paul's amendment would have empowered federal agencies to identify "any potential surplus funds" and return them to the treasury. Employees who tip off agency inspectors general to the surpluses would be eligible for bonuses.
In order to create such a system, Paul's amendment would give additional power to the executive branch by exempting the surplus funds from existing law that forbids the executive branch from seizing congressionally appropriated funds. The 1974 law was a response to attempts by then-President Richard Nixon to unilaterally cut congressionally appropriated spending.
A Republican Senate aide with close knowledge of the law, who spoke on condition of anonymity, said Paul's language exempting the funds from the 1974 law may have been an unnecessary precaution. A Democratic Senate aide, who also spoke on condition of anonymity, expressed concerns that the amendment's language may have allowed federal government administrators to defund key agency functions for ideological or political reasons.
Paul and a bipartisan group of senators introduced the Bonuses for Cost-Cutters Act separately earlier in the week.
Paul's office disputed the notion that his amendment would expand executive power.
Jillian Lane, a spokeswoman for Paul, said Tuesday that inspectors general "serve a vital role in protecting the taxpayers from waste, which includes purposely wasting money so that unneeded funds don't expire at the end of the year. It is appalling that some would seek to discredit inspectors general's integrity to protect their pork-barrel politics."
Lane noted that the Supreme Court had already ruled that the 1974 law protecting congressional appropriations from impoundment did not apply to unneeded funds.
"Train vs. New York (1975) clearly established that it was unconstitutional for the Executive to frustrate the will of Congress by withholding funds, but that if funds were unneeded, it was 'obvious' that the President would not have to spend just to spend," she said. "Bonuses would in no way change this and strictly adhere to this precedent."
This story has been updated to include comment from Paul's office.
BEFORE YOU GO