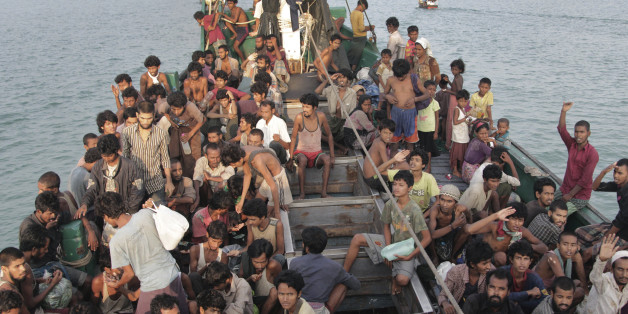 Bangladeshi Prime Minister Sheikh Hasina has unleashed a tirade of frustration and anger at the migrant crisis in the South Asian seas. Yet her outrage was directed not just at the human traffickers, but also at the desperate migrants themselves.
"They are tainting the image of the country along with pushing their life into a danger," Hasina told a meeting of government officials on Sunday, according to Bangladesh's state news agency. "I think such an unlawful trend may be stopped if the fortune-seekers who are moving from the country in [an] illegal way are punished side by side with the middlemen."
The plight of migrants escaping poverty in Bangladesh and Rohingya Muslims fleeing persecution in Myanmar sparked global outcry in recent weeks after boats of starving men, women and children were found adrift in South Asia's waters. Human traffickers abandoned thousands of people at sea in desperate conditions after a regional crackdown on smuggling earlier this month.
The region has struggled to cope with the unfolding humanitarian crisis. Malaysia, Indonesia and Thailand came under fire for turning away boats of starving refugees. Malaysia and Indonesia finally agreed last week to provide temporary shelter to some refugees, and Malaysia said it would launch search and rescue missions for the stranded boats.
Alongside the Rohingya, who are persecuted and rendered stateless in Myanmar, around half of the fleeing migrants are from Bangladesh.
The Bangladeshi prime minister did not take kindly to the new attention on her country's dire economic conditions. In her comments Sunday, she cast doubt on whether the migrants were really fleeing desperate circumstances. "It's not true that everybody is moving in this way for want," Hasina said. "They are in fact running after 'golden deer' as they think they would earn [a] huge amount of money if they can go abroad." She described migrants as becoming "mentally sick" during their passage overseas.
The International Organization for Migration said there has been a dramatic increase in Bangladeshis making the perilous voyage in the last two years, according to the Voice of America. The exodus comes after several countries reduced their quotas of Bangladeshi migrant laborers, which were a lifeline for the impoverished nation.
But migrants have found little sympathy either at home or abroad. Indonesia said on Sunday it will repatriate around 700 Bangladeshi migrants who reached its shores in recent weeks.
BEFORE YOU GO
PHOTO GALLERY
Myanmar And Bangladesh Migrant Crisis 2015