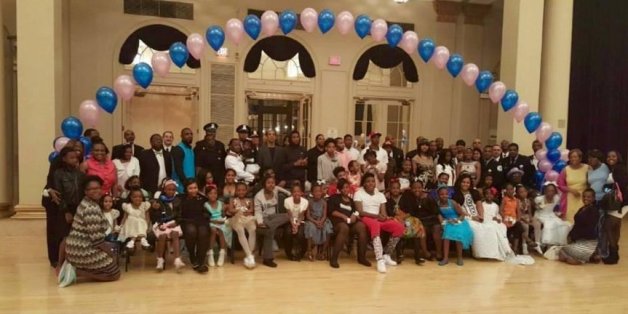 These police officers are making sure all young women have the date they deserve to a formal dance.
At the Chicago Police Department's first Father & Daughter dance, last Friday, officers took the extra step of personally escorting girls who wished to attend but whose fathers don't play at active role in their lives, NBC Chicago reported.
"It's a once-in-a-lifetime thing because some people don't really associate with their fathers," 13-year-old Brejay Payne told the news outlet. "So once you come out, dressed up, and dance, eat, and play with your father, it's kind of a nice day."
@ChicagoCAPS07 @ChicagoCAPS05 @ChicagoCAPS09 1st Father and daughter dance of Chicago Police Department Community pic.twitter.com/NlA6UpfUG3

— ChicagoCAPS07 (@ChicagoCAPS07) May 23, 2015
The free event was planned by Chicago Alternative Policing Strategy offices at districts 5, 7 and 9, along with the National Organization of Black Law Enforcement Executives. According to their website, CAPS aims to facilitate a relationship between the city's police force and its community. Events like the Father & Daughter Dance give officers a chance to interact with Chicago citizens outside their line of duty.
"They actually get to see us to find out that that the police are nothing but people. We just happen to have uniforms on," Cmdr. Larry Watson told NBC Chicago.
1st Father Daughter Dance with Chicago Police .... Great in Englewood.... pic.twitter.com/B5UFamlZEK

— ChicagoCAPS07 (@ChicagoCAPS07) May 23, 2015
The event follows a father-daughter dance held earlier this year in Chicago by the Black Star Project. In February, the nonprofit education advocacy group threw a party to highlight the important role of strong male relationships in young women's lives, the Chicago Tribune reported.
"I wouldn't miss this for the world," Willie Bailey, who attended that Daddy-Daughter dance with his 7-year-old, told the Tribune. "I love it because it gives us a chance to spend time together, just us."
BEFORE YOU GO
PHOTO GALLERY
Top 20 FREE Things To Do In Chicago