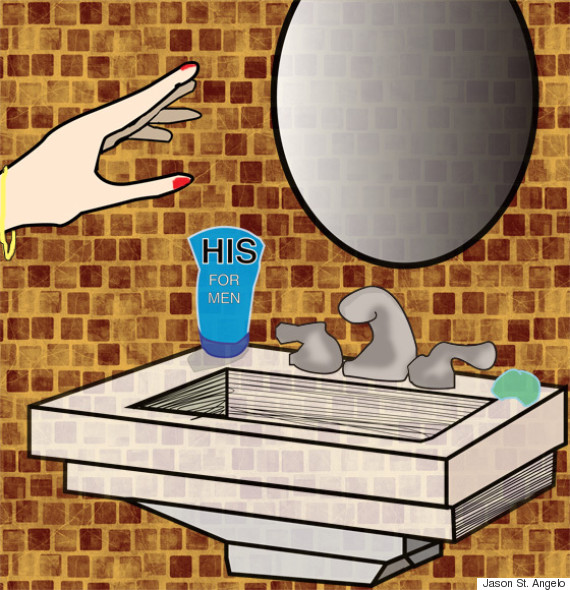 Despite the fact that we ladies have filled our closets and cosmetic bags to capacity, we still grab clothes and products from the men in our lives. There's something about his roomy clothes and rich colognes that are just begging to be used. And let's face it, men's items are often more affordable -- especially when they're coming from his dresser.
We wanted to know exactly what our female Facebook readers are snagging from their beaus, so we asked the following:
Ladies, do you love wearing your husband or boyfriend's button-down shirts, or using his body wash? Well, you're not alone. Tell us which items you like to borrow from the boys! And be specific -- we want to know which brands and why.
Here's a look at a few of the responses. Tell us some of your favorites in the comments section below.
"I love wearing his robe because it's over-sized and smells like Lacoste cologne!!" -- Facebook user Chelsē Mittermaier
"I love using my husband's razors, Bic brand, I actually don't know why, and also wearing his Degree deodorant because it reminds me of him throughout my day." -- Facebook user Dulce Diaz
"LL Bean flannel or chamois shirts." -- Facebook user Leslie Davis
"Love his Dove men's shower wash and his white T-shirts." -- Facebook user Michele Cormier
"Irish Spring because it so fresh smelling! It has to be the body wash with the beads in it, though!" -- Facebook user Deborah Webb
"I wear my husband's work shirts from Gieves & Hawkes as night shirts. The cotton is sublime and my arms stay warm" -- Facebook user Rebecca Cooper-Holmes
"If I'm really in a hurry, and they're right there in the dryer, which is in the bathroom, after a shower, I use my husband's undies. They're very comfy! I always use the body wash. Sometimes the deodorant. I hope he can't see this ... haha." -- Facebook user Carol Lynn
"His Calvin Klein Eternity cologne. I absolutely love it on him! Sometimes I'll put a dab on the inside of my wrist so I can smell it and think of him." -- Facebook user Katie Fallon
"His Zara long neck hoodie and Calvin Klein boxers for lounging around the house." -- Facebook user Nadège Lauren
"Canoe and 4711 they smell so clean and fresh; I love the fragrances. I have been wearing them since high school and I don't want to think how long it's been since I was in high school." -- Facebook user Renee Oppenheim Handwerk
"His Axe body wash scrubby pad." -- Facebook user Liz Kummet
"My boyfriend's style has been stagnant over the last few years, but he has this amazing oversized chocolate brown corded jacket and another that is a similar shade in suede which I believe is from Satch. They work so well over jeans and cropped tees, I get more wear out of them than he does!" -- Facebook user Lynn Tram
"His Hanes socks. His Hanes T-shirts." -- Facebook user Tracy Lyon
"I love his deodorant -- Old Spice classic. He's gone for long periods of time and smelling it makes me feel more calm (which is great when dealing with a 3-year-old). I also adore wearing his cologne when I'm falling asleep (Aspen men's cologne). It smells exactly like when I went hiking in the Rockies years ago. I've never smelled anything that smells that close to what it advertises." -- Facebook user Kristin Glover
"Fruit of the Loom tank tops. I steal one from my husband almost every day. Lol." -- Facebook user Brina Greis
"His old Under Armour hoodie that's way too big. It's like wearing a hug when he's not around." -- Facebook user Melissa Williams Chamberlain
"I love wearing my boyfriend's over-sized Bluenotes shirts. They're soo soft, light and usually cute!" -- Facebook user Alyssa Jones
"His Gillette razor, its better designed and gets a closer shave, oftentimes they are on sale cheaper too!" -- Facebook user Natasha Lambert
"The Brooks Brothers white broadcloth shirt he's worn that day, smells so good." -- Facebook user Mary Frances Harris
"His Nivea face scrub!!! Much better clean than women's scrubs." -- Facebook user Anita CE
"LOVE the old, worn out LEVIS 501s...pure comfort!!!" -- Facebook user Christine Marie
"I love his Cool Water after shave ... smells so sexxay!! I'll put it on if I'm feeling bad ... hmmm, I'll go put some right now!" -- Facebook user Teah Angela Lockerby
"My husband actually sprays his Hugo on my pjs while he's away. When he was deployed I would use his Axe as my bubble bath. It helps me relax." -- Facebook user Tresa Lynn Lamberts
"Any kind of pajama pants. For some reason the men's seem to have pockets and the women's usually don't. How is that fair? Haha." -- Facebook user Danielle Vieck
"I wear Old Spice Fiji deodorant. Gel stick only, most ladies deodorants, solid or gel, give me a terrible rash in my underarms. I've never had an issue with Old Spice. And Fiji smells a little girlie." -- Facebook user Samantha Alice
And finally...
"I like wearing my boyfriend." -- Facebook user Susan Means
BEFORE YOU GO
PHOTO GALLERY
14 Beauty Tricks Men Should Steal From Women