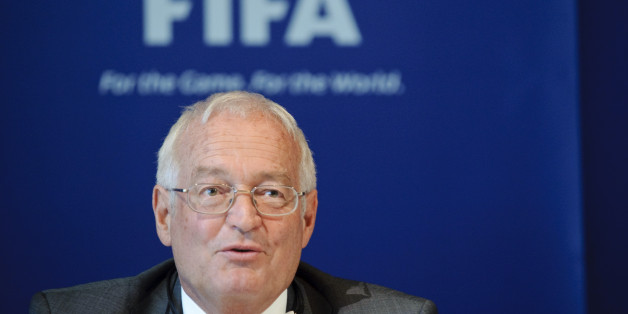 An independent ethics committee has banned 11 people from conducting football-related activities on a national and international level, according to a news release from FIFA, the Fédération Internationale de Football Association.
Nine of the banned FIFA officials, including two of its current vice presidents, were among 14 people indicted on Wednesday for racketeering conspiracy and corruption, the U.S. Department of Justice announced in a statement.
"The charges are clearly related to football and are of such a serious nature that it was imperative to take swift and immediate action," FIFA Chairman Hans-Joachim Eckert said. "The proceedings will follow their course in line with the FIFA Code of Ethics."
The 11 people banned by the committee include nine of the soccer officials named in the Justice Department indictment.
Chuck Blazer, a former member of the FIFA Executive Committee, and Daryll Warner, son of former senior FIFA official Jack Warner, were also banned. Both men already pleaded guilty in a 2013 U.S. football corruption investigation involving bribes totaling more than $100 million, ESPN reports.
The Justice Department indictment "alleges corruption that is rampant, systemic and deep-rooted both abroad and here in the United States," U.S. Attorney General Loretta Lynch said Wednesday.
Lynch slammed soccer officials, accusing them of acquiring "millions of dollars in bribes and kickbacks" from sports marketers over two decades in exchange for commercial rights to tournaments.
Swiss authorities have also opened separate investigations into both Qatar's 2022 and Russia's 2018 World Cup bids, according to The New York Times. Bribery allegations emerged shortly after it was announced in 2010 that Qatar would host the 2022 World Cup.
The United States Soccer Federation released a statement following the independent committee's announcement:
The United States Soccer Federation firmly believes there is no higher priority, and nothing more important, than protecting the integrity of our game. We are committed to the highest ethical standards and business practices, and we will continue to encourage CONCACAF and FIFA to promote the same values. Out of respect for the ongoing investigation, we will not speculate or comment further on this matter at this time.
The banned individuals are: Jeffrey Webb, Eduardo Li, Julio Rocha, Costas Takkas, Jack Warner, Eugenio Figueredo, Rafael Esquivel, José Maria Marin, Nicolás Leoz, Chuck Blazer and Daryll Warner.
This is a developing story. Please check back for updates.