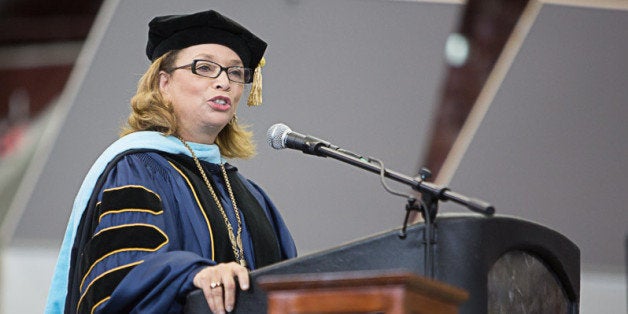 Three former employees at North Carolina Central University are accusing the historically black university and its prominent chancellor, Debra Saunders-White, of widespread racial discrimination and misuse of taxpayer funds.
Saunders-White, who previously served in the U.S. Department of Education as deputy assistant secretary for higher education programs, is black. Smith and Luse are white, and Murphy is of Cuban descent.
Luse claims in her lawsuit that Saunders-White misused university funds to pay for personal expenses, such as meals, entertainment and home exercise equipment. After she reported Saunders-White for the alleged misuse, Luse contends that the chancellor created a racially and sexually hostile work environment.
Between July 2013 and January 2014, the lawsuit says, Saunders-White essentially tormented Luse. The suit alleges that she told Luse her whiteness prevented her from ever grasping "the environment at a historically black college like NCCU." Saunders-White also allegedly accused Luse of having sex with university employees and visitors, and supposedly tried to upset her by making statements like "the only two things NCCU was really about were 'chicken and pussy.'"
Luse is seeking compensation for health problems that arose due to the allegedly inhospitable work environment.
Some of her claims are supported in the lawsuits from Murphy and Smith, both of which have been cleared to proceed by the Equal Employment Opportunity Commission. The former business school employees are also arguing that former Dean Keith Pigues and interim Dean Wanda Lester, both of whom are African-American, discriminated against non-blacks.
Murphy was a tenured professor at NCCU's business school for seven years prior to leaving the university. She claims that she was a highly qualified candidate for promotion but was overlooked. She also alleges that her pay was much lower than that of less-qualified African-American professors. Her lawsuit contends that her complaints of discrimination were not investigated and her salary never adjusted even though UNC system officials knew what was going on.
Smith was fired last year when the business school was restructured and, according to his lawsuit, he was succeeded by a black professor.
Murphy and Smith are seeking back pay and other damages.
Universities being accused in court of reverse racism isn't particularly new or shocking. Many white Americans think that racial discrimination against whites, or non-blacks, is now more commonplace than racial discrimination against blacks. But others insist that "reverse racism" -- that is, systemic discrimination against white people -- simply does not exist.
"The University disagrees with and plans to vigorously and aggressively defend itself against the numerous unfounded allegations contained in the complaints," Hernandez said. "NCCU will not allow such claims to deter us from our mission of providing students with a high quality education in a culturally diverse and enriching environment."