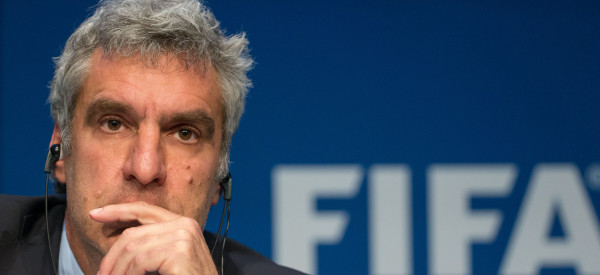 TOP STORIES
To get The Morning Email, HuffPost's daily roundup of the news, in your inbox, sign up here.
FIFA CRACKDOWN IN DAWN RAID "Swiss federal prosecutors opened criminal proceedings related to the awarding of the 2018 and 2022 World Cups [to Russia and Qatar], throwing FIFA deeper into crisis only hours after six soccer officials were arrested and 14 indicted Wednesday in a separate U.S. corruption probe. FIFA, meanwhile, said Friday's presidential election would go ahead as planned with Sepp Blatter going for a fifth term." The U.S. probe indicted 14 soccer officials with "racketeering, bribery, money laundering and fraud." Allegedly, the officials accepted and paid over $150 million worth of bribes and kickbacks. [AP]

THIEVES STOLE OVER 100,000 AMERICANS' TAX INFO According to the IRS, the theft was part of a scheme to receive fraudulent tax refunds. [AP]
APPEALS COURT KEEPS HOLD ON OBAMA'S EXECUTIVE IMMIGRATION ACTION President Obama's plan to keep over five million immigrants from deportation may not come into effect by the time he leaves office. [AP]
CHINA TESTS CONTENTIOUS WATERS "China outlined a strategy to boost its naval reach on Tuesday and announced plans for the construction of two lighthouses in disputed waters, developments likely to escalate tensions in a region already jittery about Beijing's maritime ambitions." [Reuters]
AT LEAST 17 DEAD IN TEXAS AND OKLAHOMA FLASH FLOODS And flood waters rose a foot yesterday in Texas following torrential downpours. [AP]
WHY THE TPP DEAL OKs SLAVERY IN MALAYSIA It all comes down to a key global trade "chokepoint." [Akbar Ahmed, Laura Barron-Lopez and Ryan Grim]
CLEVELAND POLICE DEPARTMENT AGREES TO NEW USE OF FORCE GUIDELINES "The new rules in Cleveland prohibit officers from using force against people for talking back or as punishment for running away. Pistol whipping is prohibited, and so is firing warning shots, the agreement says. The city has agreed to allow an independent monitor to track its progress." [NYT]
TRAIL TO THE CHIEF: FIXING THE GOP PRIMARY DEBATES How to make sense of a debate stage with ten people on it. [Howard Fineman, Jason Linkins and Lauren Weber]
WHAT'S BREWING
NEW HIRES MET WITH SET SALARIES "The social-news site Reddit.com has a tip for new hires expecting to negotiate their pay: Don't even try it. The San Francisco-based Web company, which has about 169 million unique monthly visitors and is known as the launchpad for viral Web phenomena, has a take-it-or-leave-it policy for starting salaries. Other firms, including e-commerce startup Jet.com Inc. and test-preparation firm Magoosh Inc., have similar rules in place." [WSJ]
CONGRATS TO KEIRA KNIGHTLEY For welcoming her first child with husband James Righton. [HuffPost]
ADVERTISERS WITHDRAW FROM '19 KIDS AND COUNTING' TLC has pulled the show in light of the child molestation reports, but not officially canceled the ratings horse. [HuffPost]
HORRIBLE MOVIE SET ACCIDENTS YOU DIDN'T KNOW ABOUT Including helicopter decapitations. [Digg]
COULD PHEROMONE PERFUME WORK? "I soon found myself having full-on conversations with both men and women while running the gym's stairs and lifting weights. Uber drivers struck up conversations. Bartenders smiled at me, and one night, a girl walked across a room to tell me she loved my plain black dress. I also got compliments on my unwashed hair." [Fusion]
THE CHEAPEST STATE FOR WEED And the winner goes to ... [HuffPost]
THE 'TOXIC FRIENDS' TO WATCH OUT FOR "It's a universal -- if sometimes painful -- truth: Not every friendship is meant to last a lifetime. It's also true that many of us stay in friendships long after we should've said adios. Why? Because we rationalize and deny that the relationship makes us feel 'less than.' We make excuses for the other person when we should be giving her the boot." [HuffPost]
WHAT'S WORKING
CAMBODIA'S BOMB-DEFUSING DIVERS "A small group of Cambodians -- some of whom only recently learned to swim -- is doing zero-visibility dives to rid the country's waters of bombs. Photographer Charles Fox has documented their journey in an incredible new photo series that beautifully captures these unexploded ordnance divers trying to make their nation a safer place." [HuffPost]
ON THE BLOG
DIVORCE: YOUR LIFE RIGHT NOW "I remember saying to my best friend over and over, day after day, I can't BELIEVE this is my life. Here is what I say to my friends, and to any of you who are in the weeds right now. This is NOT your life. This is your life RIGHT NOW. And it sucks. Mightily. I know. I remember." [HuffPost]
BEFORE YOU GO
~ Type something out with Instagram photos.
~ Check out the new Batmobile chasing the Joker in leaked "Suicide Squad" footage.
~ LeBron and the Cleveland Cavaliers are headed to the NBA finals.
~ You can buy Regina George's house.
~ No really, you can touch the artwork here.
~ Kaley Cuoco upped her pink game by taking the dye to her eyebrows.
~ Chrissy Teigen took it all off for this beachside shoot with her husband, John Legend.
~ Taylor Swift has officially made it: check out her awesome LEGO portrait.
~ This Chrome extension replaces the word "millennials" with the phrase "snake people."
~ Amazon Prime's lineup for June.
~ When you have an owl as your ring bearer.
~ Lilly Pulitzer fans are in a uproar after photos of fat-shaming cartoons from the company's HQ were released.
~ And happy Wednesday -- here's a baby bear wrestling match.
Send tips/quips/quotes/stories/photos/events/scoops to Lauren Weber at lauren.weber@huffingtonpost.com. Follow us on Twitter @LaurenWeberHP. And like what you're reading? Sign up here to get The Morning Email delivered to you.