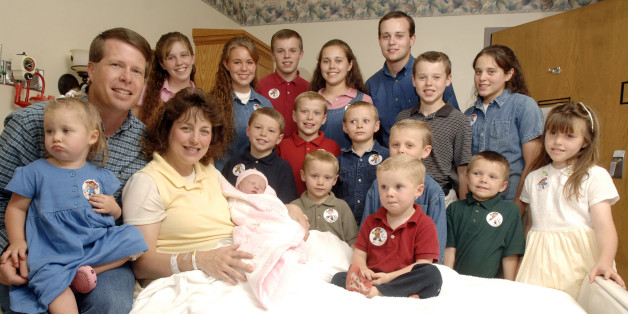 A women's rights group wants television executives to make sexual abuse prevention a priority on par with promoting one of their top-rated reality shows.
In a USA Today column published on Wednesday, Teresa C. Younger, the Ms. Foundation for Women president and CEO, called on the TLC network to partner with sexual abuse activists in order to launch an education campaign addressing the issue "on the same scale as the network's relentless marketing of the Duggar family."
"Today's headlines offer us the chance to refocus public attention on what to do if you know or suspect a child is being abused -- even in your own home or family," wrote Younger, who heads a group that advocates for prioritizing gender equality in public policy at federal and state levels. "We cannot afford to waste that opportunity."
After reports surfaced that Josh Duggar was investigated by police in 2006 for molesting underage girls, including some of his sisters, when he was a teenager, the family's oldest son released a statement last week apologizing for "act[ing] inexcusably."
Many were quick to call out the hypocrisy of the Duggars' conservative positions on LGBT rights and abortion.
The now-27-year-old, who is currently expecting his fourth child with his wife, Anna, stepped down from his position at anti-gay lobbying group Family Research Council last week. And, last August, family matriarch Michelle Duggar campaigned against trans men and women in Arkansas being allowed to use the public restrooms associated with their gender identity.
"I don't believe the citizens of Fayetteville would want males with past child predator convictions that claim they are female to have a legal right to enter private areas that are reserved for women and girls," Michelle Duggar said in a robocall to voters.
In wake of the news, TLC pulled all episodes of "19 Kids and Counting" from the air. But despite advertisers fleeing the show -- including General Mills, Walgreens, Jimmy Dean and Ace Hardware -- the program has yet to be canceled, TMZ reported.
It doesn't need to be for meaningful change to happen, though, according to Younger: "Regardless of whether the network cancels the Duggars' show or not, TLC can and must help empower every person who knows of or suspects child sexual abuse to take action."
Need help? Learn how you or a loved one can find support at RAINN (Rape, Abuse and Incest National Network).
To learn more about the Ms. Foundation for Women, visit the group's website.
BEFORE YOU GO
PHOTO GALLERY
The Duggars