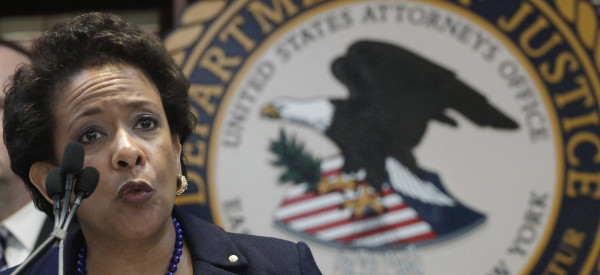 TOP STORIES
To get The Morning Email, HuffPost's daily roundup of the news, in your inbox, sign up here.
FIFA FALLOUT Will FIFA's President Sepp Blatter win re-election tomorrow following the massive bribery scandal that has rocked FIFA? Here's how the U.S. can arrest international officials in Switzerland. Loretta Lynch warned in her "stunning debut" that these arrests were just the beginning. And cataloging the "human toll of FIFA's corruption." [NYT]

THE PENTAGON SHIPPED LIVE ANTHRAX TO NINE STATES It was supposed to ship dead spores. [AP]
INDIA HEAT WAVE DEATH TOLL RISES TO 1,400 And the scorching heat is expected to last for several more days. [AP]
NEBRASKA REPEALS DEATH PENALTY Leaving the number of states with capital punishment at 31. [Kim Bellware, HuffPost]
ILLEGAL IMMIGRATION RATES AT LOWEST POINT IN TWO DECADES Government officials attribute the drop to increased border security. [WaPo]
SENATORS BACK MEDICALLY ASSISTED TREATMENT FOR HEROIN ADDICTS "The legislation, known as the Recovery Enhancement for Addiction Treatment Act, would loosen restrictions on the number of patients a doctor could treat with buprenorphine for opioid addiction. The consensus among the medical establishment is that medically assisted treatments such as buprenorphine (and methadone), along with counseling, represent the best chance for addicts to gain a foothold on sobriety. Both medications can make withdrawal less painful and can significantly diminish further cravings for opioids -- greatly reducing the chance of relapse." [Jason Cherkis, HuffPost]
AT LEAST 21 DEAD IN TEXAS AND OKLAHOMA FLASH FLOODS Even more rain fell on Texas yesterday, exacerbating search and rescue and cleanup efforts. And here's why Texas in particular was vulnerable to such a flash flooding scenario. [AP]
WHAT'S BREWING
LEBRON VS. CURRY SHOWDOWN SET With the Golden State Warriors' win last night, the two best players in basketball are set to face off in the NBA finals. [AP]
WHY BILL GATES FEARS THE NEXT PANDEMIC According to the Microsoft founder and philanthropist, the world is unprepared for an outbreak that could then kill a sizeable chunk of the planet. [Vox]
TRACY MORGAN SETTLES WITH WAL-MART OVER CAR CRASH INJURIES "Actor-comedian Tracy Morgan has settled his lawsuit against Wal-Mart over a New Jersey highway crash that killed one man and left Morgan and two friends seriously injured." [AP]
CHELSEA MANNING: MY LIFE IN PRISON "Today marks five years since I was ordered into military confinement while deployed to Iraq in 2010. I find it difficult to believe, at times, just how long I have been in prison. Throughout this time, there have been so many ups and downs -- it often feels like a physical and emotional roller coaster." [The Guardian]
CHRONICLING MINDY KALING AND B.J. NOVAK'S COMPLICATED RELATIONSHIP Before we get our hands on the book they're writing about it together. [Vulture]
HOW TO FIX YOUR iPHONE AFTER IT CRASHES FROM THAT TEXT Thanks a lot; you know who you are. [9 to 5 Mac]
HOW DJs AVOID YOUR SONG REQUEST Turns out they really can hear you after all. [Medium]
WHAT'S WORKING
THERE ARE 200 MILLION FEWER HUNGRY PEOPLE THAN IN 1990 "The number of hungry people around the world has dropped to 795 million from over a billion a quarter-century ago despite natural disasters, ongoing conflicts and poverty, the three U.N. food agencies said Wednesday." [HuffPost]
ON THE BLOG
SHERYL SANDBERG: WHAT REAL EQUALITY LOOKS LIKE "What do I want the world to look like in 2030? That's easy -- I want real equality, where women run half our companies and countries, and men run half our homes. The hard part is getting there. Without a major change in our stereotypes about women and men, true equality is still generations away." [HuffPost]
BEFORE YOU GO
~ The euphemisms doctors and health care professionals use to talk about assisted suicide.
~ Before you learn the hard way, don't put out a grease fire with water. Here's a slo-mo video to drill that point home.
~ Jenna Bush Hager may host her own talk show on NBC. No word on Chelsea Clinton's next moves.
~ Your Instagram photos could be worth $90,000.
~ Don't worry, ladies: George Clooney has assured us all he will never dye his hair.
~ Jason Segel's turn as David Foster Wallace screams Oscar nomination in the first trailer for "The End of the Tour."
~ Chris Pine will play the love interest in "Wonder Woman."
~ The Duke who balances Rolling Stones tours with his estate renovation.
~ How to run a semi-legit diet study that proves you can eat chocolate and lose weight.
~ The summer Royal wedding that could make Kate Middleton look like she was wearing a potato sack.
~ And someone please send us these Tina Fey and Amy Poehler action figures.
Send tips/quips/quotes/stories/photos/events/scoops to Lauren Weber at lauren.weber@huffingtonpost.com. Follow us on Twitter @LaurenWeberHP. And like what you're reading? Sign up here to get The Morning Email delivered to you.
BEFORE YOU GO
PHOTO GALLERY
Christians Who Believe Evolution