The New York Times: To Feed More, Food Pantries Learn From Supermarkets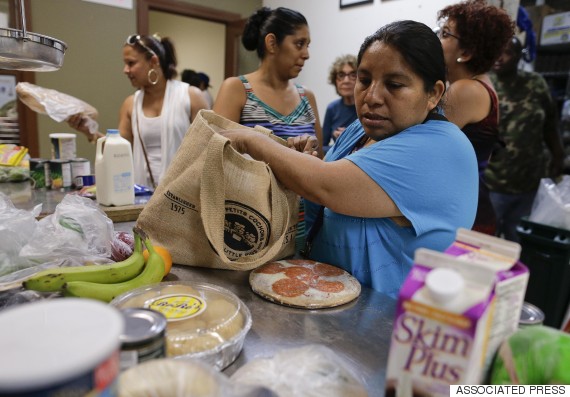 Fighting hunger in New York City is a difficult, ongoing battle. According to the Food Bank for New York City, residents miss 100 million meals every year.
An estimated 1.5 million people depend on food pantries in the city. Some food pantries are finding that giving the people they serve choice in the food they eat, rather than just handing them a bag of pre-packaged goods, has been more effective in tackling the city's hunger problem. The West Side Campaign Against Hunger in Manhattan, for example, is the United States' "first-ever customer choice pantry." It functions like a supermarket, New York Times' Tina Rosenberg writes: Members can select what their families need and leave behind what they don't.
"It cuts waste, preserves the dignity and autonomy of clients, and, as the West Side campaign has found, can encourage clients to become volunteers," Rosenberg explains.
Other pantries, like the The New York Common Pantry in East Harlem, have digitized their services, allowing clients to select and order foods both at the pantry and online. Digitization of food pantries has made the system faster and more efficient, reducing the work load for volunteers and allowing pantries to feed a larger number of people. The benefits don't stop there -- digital pantries also seek to educate clients and help them meet their personal diet needs.
"Using digital choice also allows the pantry to encourage healthier eating or quickly distribute perishable produce," Rosenberg continues. "If you have hypertension, you can choose to see a list of low-salt food. If you lack cooking facilities, you can see what's microwaveable. There are halal and kosher categories."
MORE:
Medium/Bright: Baltimore Rising, Baltimore Healing
The Guardian: How to grow food in a slum: lessons from the sack farmers of Kibera
The What's Working Honor Roll highlights some of the best reporting and analysis, from a range of media outlets, on all the ways people are working toward solutions to some of our greatest challenges. If you know a story you think should be on our Honor Roll, please send an email to our editor Catherine Taibi via catherine.taibi@huffingtonpost.com with the subject line "WHAT'S WORKING."