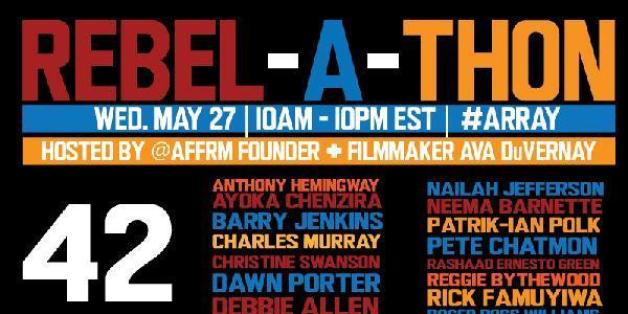 For the second consecutive year, Ava DuVernay teamed up with more than 40 fellow independent filmmakers to interact with fans and friends via their Twitter takeover, "Rebel-A-Thon."
During the 12-hour interactive initiative, the "Selma" director was joined by Tyler Perry, Oprah Winfrey, Salim Akil, Debbie Allen, Malcom D. Lee and others as they provided insight and advice on filmmaking through their personal Twitter accounts using the hashtag #ARRAY.
According to DuVernay, the hashtag was created in an effort to spread awareness for her independent distribution label, African-American Film Festival Releasing Movement (AFFRM ) and to push for more diversity in cinema.
"That's what we're trying to do. An array of cinema. More kinds of people, making more kinds of films," DuVernay said during a Wednesday interview on The Russ Parr Show. "Meaning black folk, and brown folk, and women. And all of that…And this whole thing is to raise awareness for AFFRM and to raise members."
"It's all about this whole movement that black film is beautiful and if we want to see these things we can't just complain about it we have to do something."
Check out a few Tweets from "Rebel-A-Thon" below.
.@mdotgooch If you're rejected by the masses but you reach your niche, you've been successful. Look at me. #ARRAY

— Tyler Perry (@tylerperry) May 27, 2015
.@tylerperry @theKimansta that's the beauty of multiple and diverse storytelling. No one story fits all. #ARRAY

— Oprah Winfrey (@Oprah) May 27, 2015
.@MostUnlikelyTV film festivals with film enthusiasts! #ARRAY

— Malcolm D. Lee (@malcolmdlee) May 27, 2015
12 hrs. 43 directors. It's all been said. I'll end w/ this: We're stronger together than we are alone. Thanx. Onward! http://t.co/ECDfaKIpBw

— Ava DuVernay (@AVAETC) May 28, 2015