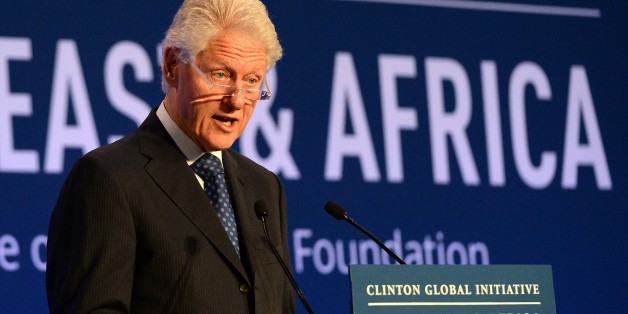 Bill Clinton used his time at the podium on Thursday to stump for improved health infrastructures in the developing world -- and to assure the crowd he's healthy.
"This morning, I'm officially Ebola-free," Clinton said during a speech at the United Nations' Economic and Social Council Partnership Forum, CNN reported.
The former president told the audience he's still checking his temperature twice a day after visiting Liberia earlier this month, before the West African nation was deemed free of the deadly virus. He also visited Tanzania, Kenya and Morocco during the nine-day visit on behalf of his global humanitarian nonprofit, the Clinton Foundation.
Clinton expressed the need for international partnerships between groups and governments to fight poverty, promote education and fight diseases like Ebola -- a "man-made disaster" that'll take such partnerships to handle.
"The things we take for granted which are not present elsewhere, are the things I believe we should focus our partnerships on," he explained, according to CNN. "There is no better place to prove the point than in the Ebola-affected countries. There is no better place to spend the money."
West Africa was ravaged by Ebola last year. In the hardest-hit nations of Liberia, Guinea and Sierra Leone, there have been 27,055 suspected, probable and confirmed cases of the disease, and 11,142 people have died from it as of Friday, according to the Centers for Disease Control and Prevention (CDC).
While the virus has significantly dwindled in the region in recent months, Liberia is the only one of the three the World Health Organization (WHO) has declared Ebola-free. WHO made the announcement on May 9.
An international panel of experts that analyzed the health organization's actions leading up to and during the outbreak found earlier this month that there was "strong, if not complete, consensus that WHO does not have a robust emergency operations capacity or culture," the Wall Street Journal reported.
The panel's report called on increased funding from member states to ensure the global organization can be better prepared for emergency health operations in the future.
"Now is the historic political moment for world leaders to give WHO new relevance and empower it to lead in global health," the report reads. "A strengthened, well-funded WHO can support all countries as they prepare to meet the challenges of increasing global interdependence and shared vulnerability."
Support UNICEF's efforts to combat Ebola through the fundraising widget below.
BEFORE YOU GO
PHOTO GALLERY
Hillary y Bill Clinton