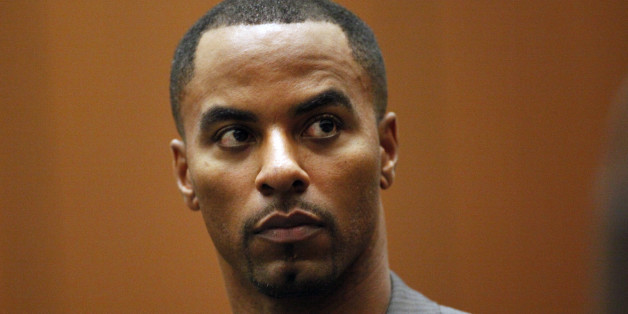 In an New Orleans court on Friday, former NFL player Darren Sharper pleaded guilty to federal charges stemming from multiple attempts of drugging and raping women, according to The Advocate.
The former NFL safety, who played for the New Orleans Saints during 2009-2010, his final season in the league, admitted to three counts of conspiracy to distribute drugs and commit rape.
Another man is also named in the nine-count indictment for assisting the football player in attempting to use Xanax, Ambien and Valium to try and rape three women in New Orleans, the paper said.
Sharper's federal sentencing is expected on Aug. 20, when he will plead guilty to two counts of forcible rape and one count of simple rape from a pair of 2013 incidents, according to The Advocate.
It is the latest in what has been a lengthy series of crimes and subsequent admissions from the five-time Pro-Bowler, who allegedly drugged and attempted to rape nine women in four states following his retirement. He was first arrested in January 2014 and at the time had been working as an analyst for the NFL Network, which later terminated his contract in light of the allegations. Sharper was already on indefinite suspension from the network following an arrest for drug possession.
Friday's guilty plea was Sharper's fourth with another expected in June. He had previously pleaded not guilty in April for the charges he face in New Orleans. As part of a plea bargains, Sharper pleaded no contest to charges in California, and guilty to charges in both Arizona and Nevada. As part of his plea bargain, Sharper will serve at least nine years in federal prison as well as a lifetime probation in Arizona and possible penis monitoring, according to earlier reports.
Sharper, 39, played 14 seasons in the NFL, including stints with the Green Bay Packers and Minnesota Vikings. With the Saints, he won the Super Bowl in 2010. He was a six-time All-Pro player.