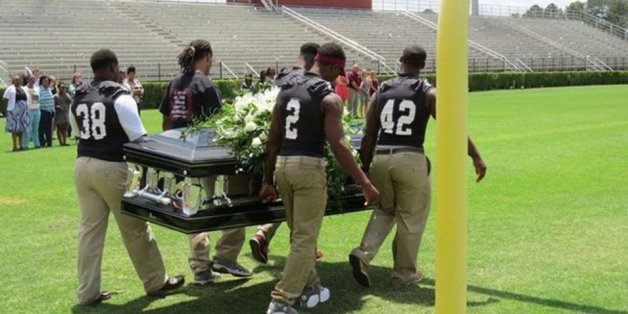 Last Sunday was a day of mourning for residents of Coffee County, Georgia, as 18-year-old Malik Sparkman was laid to rest that afternoon. Sparkman, a football player at Coffee High School, lost his battle against cancer on May 17.
Before he died, however, he had one final request: He wanted to go through the tunnel at Coffee High School's football field with his teammates just one last time. On Sunday, the Trojans' linebacker got his wish.
In front of family, friends and coaches, Sparkman's teammates solemnly carried his casket through the tunnel and across the middle of the gridiron. Sparkman, who would have been a senior next season, was being recruited by Florida State to play football, according to Fox Sports.
Teammates carry Sparkman's casket across the field. While composed then, emotions spilled out at the funeral, which was attended by over 500 people (Source: YouTube)
Sparkman had renal medullary carcinoma, a rare type of kidney cancer often associated with sickle cell trait.
At the funeral procession, more than 500 loved ones attended to pay their respects. According to Coffee County Police Scanner's Facebook page, Sparkman's teammates remained composed during the service until a video tribute began, when they could no longer hold back their tears.
"He always said he wasn't ever gonna give up, and God has him," Sparkman's girlfriend Tia Williams told Atlanta's Channel 2 Action News.
An outpouring of tribute messages appeared on social media following the ceremony:
Coach Fisher gave cancer patient and FSU signee Jalen Wilkerson's friend Malik Sparkman the opportunity to be a 'Nole pic.twitter.com/A0HCYHAlCj

— FSU Gameday (@FlaStateGameday) May 14, 2015
RIP Malik Sparkman!! We Love You #CoffeeCoTrojans Keep the "Spark" Alive!!! #Classof2016 pic.twitter.com/rHCXwnPMtT

— ✨Jay G✨ (@TheRealJG_21) May 27, 2015
heaven gained an angel tonight. rest easy Malik Sparkman. you're in a far better place and you won't suffer anymore. pic.twitter.com/2Wb7GaOqUA

— jennifer (@fiftysniall) May 18, 2015
"They're hanging in there as a team. It brought their team closer. They're strong," Williams said. "They did take it hard at the funeral, but they know he's not suffering anymore."
The Coffee County High School football plans to honor Sparkman throughout next season, reported WSB-TV.