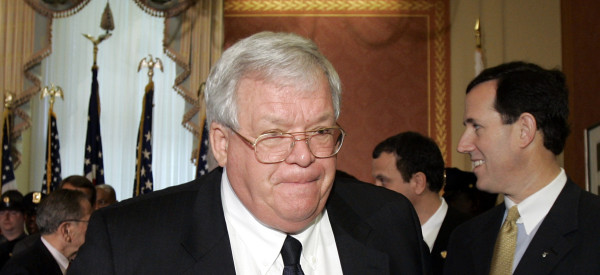 TOP STORIES
To get The Morning Email, HuffPost's daily roundup of the news, in your inbox, sign up here.
FORMER SPEAKER OF THE HOUSE INDICTED "Former U.S. House Speaker Dennis Hastert agreed to pay $3.5 million in hush money to keep a person from the town where he was a longtime high school teacher silent about 'prior misconduct' by the Illinois Republican who once was second in line to the U.S. presidency, according to a federal grand jury indictment handed down Thursday." Read the seven page indictment. Here's how the Patriot Act that Hastert helped pass led to his downfall. And the biggest question is what "prior misconduct" was Hastert trying to cover up? [Daniel Marans, HuffPost]

INDIA HEAT WAVE DEATH TOLL HITS 1,800 The heat is also causing deadly water shortages. [AP]
EMBATTLED FIFA PRESIDENT FACES RE-ELECTION TODAY And his best defense to the rampant corruption happening under his nose was "We, or I, cannot monitor everyone all of the time." [AP]
U.S. INTEL FINDS ARMS ON CHINESE MAN-MADE ISLANDS The latest surveillance shows the Chinese have placed arms on the man-made islands in the disputed South China Sea, escalating tensions going into a high-stakes security summit this weekend in Signapore. [WSJ]
WHAT'S GOING ON BEHIND THE SCENES AT U.S. BIOLABS "A USA TODAY Network investigation reveals that hundreds of lab mistakes, safety violations and near-miss incidents have occurred in biological laboratories coast to coast in recent years, putting scientists, their colleagues and sometimes even the public at risk." And the number of labs the Pentagon accidentally shipped live anthrax to rose to 18, meaning at least 26 people might have been exposed. [USA Today]
U.S. TO EXPAND ROLE IN FIGHT AGAINST BOKO HARAM The State Department plans to increase military support and send advisors to help Nigeria combat the deadly terrorist group. [NYT]
AMERICA'S MORALS SHIFT LEFT "Americans are becoming increasingly more liberal across several moral issues. According to a new Gallup study, a record high percentage of Americans are now accepting of same-sex relationships, having a baby outside of marriage and premarital sex between men and women." [Janie Velencia, HuffPost]
WHAT'S BREWING
WHAT HAPPENED TO JOHNNY DEPP? Lauren Duca examines how the superstar has outworn his quirky schtick. [HuffPost]
YOU CAN NOW WATCH 'GAME OF THRONES' EVEN MORE EASILY As HBO Go will now be available on Google Chromecast and other Google devices. [HuffPost]
ANOTHER COUPLE FROM 'THE BACHELOR' BITES THE DUST Chris Soules and Whitney Bischoff are no more. [HuffPost]
MEET THIS YEAR'S NATIONAL SPELLING BEE CO-CHAMPIONS Can you spell "scherenschnitte" or "nunatak?" [AP]
EMINEM'S 'LOSE YOURSELF' MAY BE EVEN BETTER IN SIGN LANGUAGE Seriously, how can you not get amped up watching this? [HuffPost]
'SERIAL' RETURNS FOR SECOND AND THIRD SEASON Your favorite podcast will be back for two more seasons, so you can be lulled into questioning your existence once again with Sarah Koenig. [AP]
MORE REASONS TO MAKE YOUR BED Than your mother told you to. [HuffPost]
WHAT'S WORKING
CHOBANI CEO TO DONATE HALF HIS WEALTH "Chobani founder and CEO Hamdi Ulukaya says he will join some of the world's richest individuals in pledging to give away at least half his wealth, which has been estimated at $1.41 billion." [AP]
ON THE BLOG
WHY YOUR EMAIL CAN BE DANGEROUS "If a thief gets control of your email account, you are vulnerable to attack elsewhere. Many passwords reset via email, so even if you use a separate, long and strong password on, for instance, your bank account, a thief with access to your email can reset it. Many sites offer the choice between password reset via email or a mobile phone. Choose the latter for greater security." [HuffPost]
BEFORE YOU GO
~ A look inside Colorado movie theater killer James Holmes's notes.
~ Steel yourself for Bob Schieffer's last "Face the Nation" broadcast.
~ Everything you need to know about Google Photos.
~ Demi Lovato credits boyfriend Wilmer Valderrama with her life for his support during her struggle with mental illness.
~ Jesse Eisenberg and Kristen Stewart reunited for their latest stoner flick.
~ That time Kristen Bell accidentally took an Uber carpool.
~ "Jaws" returns to theaters for its 40th anniversary.
~ Don't worry guys -- Lori Loughlin's Aunt Becky and Bob Saget's Danny Tanner will be back for the "Full House" reunion!
~ The job market is looking up for recent college grads.
~ Skymall is coming back!
~ James and Sean Gunn are teaming up for "Belko."
~ The dangers of being pregnant and not taking your depression medication.
~ Up your cupcake decorating game.
~ Behind the "Kung Fury" movie sweeping the Internet.
~ When the guy who designed your world-famous "HOPE" poster no longer has any hope for you.
~ Why granny panties are making a comeback.
~ Hulu has pulled "19 Kids and Counting."
Send tips/quips/quotes/stories/photos/events/scoops to Lauren Weber at lauren.weber@huffingtonpost.com. Follow us on Twitter @LaurenWeberHP. And like what you're reading? Sign up here to get The Morning Email delivered to you.