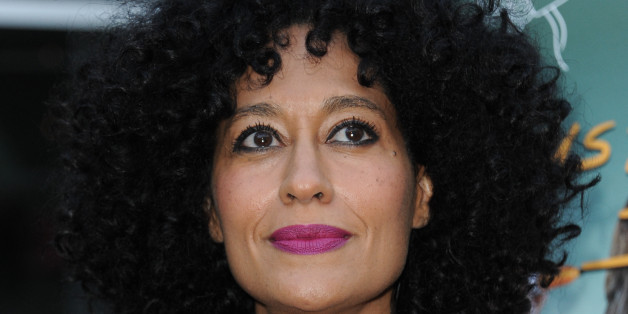 Since its network premiere last fall ABC's family comedy series "black-ish" has earned rave reviews and netted a 2015 Television Academy honor for addressing the controversial issue of corporal punishment.
For her part, Tracee Ellis Ross has earned Emmy buzz for her performance as Rainbow Johnson, the family matriarch.
During a recent roundtable discussion of comedy actresses filmed by The Hollywood Reporter, Ross and five other comedy actresses in television -- Amy Schumer, Lena Dunham, Gina Rodriguez, Ellie Kemper, and Kate McKinnon -- opened up on a series of topics affecting the comedy community, including race and sexism.
Ross shared her experiences with some of the issues addressed in Chris Rock's much-lauded December 2014 Hollywood Reporter essay, in which he lamented Hollywood's racial disparity issues -- particularly the lack of black women in movie roles.
"There aren't many [roles in film]," she said. "That's why I say no to all the offers! (Laughs.) Working on a film is one job where you look at a casting breakdown and I'll think, 'That's me!' But she's not supposed to be black…But I go for them anyway."
The daughter of music icon Diana Ross, the 42-year-old "black-ish" said her upbringing instilled in her the profound importance of knowing her self-worth. Ross pointed out the inherent sexism in the idea of "diva behavior" that has been attributed to her mother, and strong women everywhere who know who they are, and what they're worth.
"I was raised by a woman [singer Diana Ross] who has high standards for what she's worth, which has been called 'diva behavior,'" Ross said. "I have witnessed flagrant, disgusting behavior, and that is not my mother. There is a way to be a woman, ask for what we deserve and be able to negotiate."
Read more from the Hollywood Reporter discussion here.

BEFORE YOU GO
PHOTO GALLERY
Tracee Ellis Ross Photos