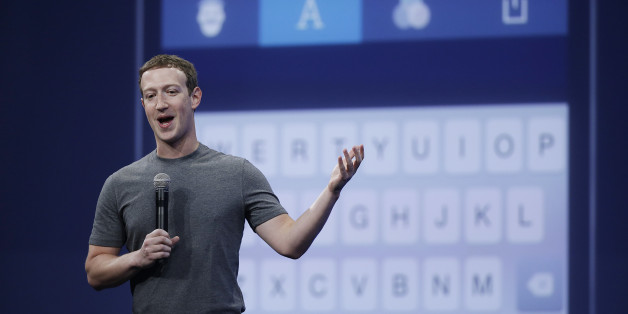 Facebook's bid to tighten its grip on news media is looking smarter and smarter every day.
A new survey from the Pew Research Center reveals that 61 percent of American millennials (18 - 33 years old) said that in the past week they got political or government-related news from Facebook. That's considerably higher than the percentage of millennials who said they got news from CNN -- 44 percent -- and higher still than the 37 percent who said they tuned into local TV for coverage.
Far fewer baby boomers (50-68 years old) use Facebook in this way: Only 39 percent reported that they got news about politics and government from Facebook in the past week. Meanwhile, 51 percent of Generation X (34 - 49 years old) reported that they get such news from Facebook.
The survey arrives at a time when Facebook is swiftly becoming a more influential force in the news media. Last month, it began hosting and publishing "Instant Articles" from partner organizations like National Geographic. The aim is to keep consumers within Facebook's world -- rather than clicking over to other websites for their news -- while simultaneously delivering quicker article load times and interactive multimedia. Publishers who join forces with Facebook presumably have access to audience targeting tools and shared ad revenue.
Facebook did not immediately respond to a request for comment from The Huffington Post.
According to the Pew survey, Facebook's nearest online-only news competitor is Google News: 33 percent of millennials surveyed said they got news about politics and government from that service, while 18 percent of Generation X and 15 percent of baby boomers did. The numbers were a bit lower for YouTube, with 23 percent of millennials, 11 percent of Generation X and 10 percent of baby boomers getting news from the video site.
Rival social networks didn't fare so well: On Twitter, only 14 percent of millennials, 9 percent of Generation X and 5 percent of boomers used the service for politics and government news. The numbers were worse for Google Plus and even smaller for LinkedIn, as Pew's complete comparison chart explains.
Interestingly, the survey also touched on another controversial subject regarding how people consume content on Facebook. The social network has been criticized in the past for allegedly showing users stories or status updates that they're more likely to agree with, forming a sort of echo chamber. The jury is still out on that one, but Pew's survey does reveal that 31 percent of baby boomers see posts that "support their own views" most or all of the time, while 21 percent of Gen-Xers and 18 percent of millennials do, too.
Pew conducted its survey between March 19 and April 29, 2014. All told, 2,901 people responded using the Internet. Major news stories on Facebook at the time included the Russian invasion of Crimea and the search for Malaysia Airlines Flight MH370.