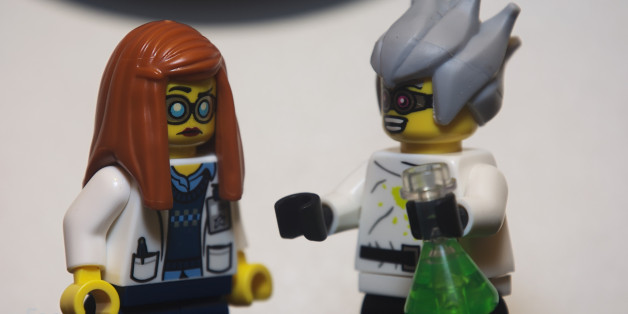 What should a scientist do if she catches her adviser eyeing her cleavage? According to an article posted on Science magazine's website, she should probably just "put up with it" for the sake of her career.
Come again?
The article, entitled "Help! My adviser won't stop looking down my shirt," appeared in the advice column "Ask Alice" on Monday morning.
Shortly thereafter, men and women across the Twitterverse voiced their opinions on the iffy advice (scroll down for a selection) -- and the article was taken down.
(Story continues below tweets).
So #WomeninSTEM should just tolerate being ogled at because we *need* a male advisor to help us advance. https://t.co/jLpYU7WjgL

— Michelle (@Bailiuchan) June 1, 2015
You might think about and look a bit more frumpy. #CrapScienceCareersAdvice

— Kathleen Nicoll, PhD (@nika_desert) June 1, 2015
What is also ridiculous about that piece is that it implies science is SO SPECIAL you should be ok with enduring harassment. Because science

— Kate Clancy (@KateClancy) June 1, 2015
I think the problem with that "advice" piece is that it's *not* unusual, either from @ScienceCareers or elsewhere. https://t.co/Bc0NNQoggV

— Matthew R. Francis (@DrMRFrancis) June 1, 2015
.@ScienceCareers column told a postdoc to "put up with" her leering advisor. @SarcasticRover's advice is better. https://t.co/wG18qECev8

— Mindy Weisberger (@LaMinda) June 1, 2015
In the original article, which can be viewed here, a woman who identifies herself as "Bothered" asks:
Q: I've just joined a new lab for my second postdoc. It's a good lab. I'm happy with my project. I think it could really lead to some good results. My adviser is a good scientist, and he seems like a nice guy. Here's the problem: Whenever we meet in his office, I catch him trying to look down my shirt. Not that this matters, but he's married. What should I do?
And here's part of the response, written by Dr. Alice Huang, a microbiologist and former president of the American Association for the Advancement of Science:
A: Imagine what life would be like if there were no individuals of the opposite—or preferred—sex. It would be pretty dull, eh? Well, like it or not, the workplace is a part of life. ... As long as your adviser does not move on to other advances, I suggest you put up with it, with good humor if you can. Just make sure that he is listening to you and your ideas, taking in the results you are presenting, and taking your science seriously. His attention on your chest may be unwelcome, but you need his attention on your science and his best advice.
In a note following the article's retraction, Science wrote, "We regret that the article had not undergone proper editorial review prior to posting. Women in science, or any other field, should never be expected to tolerate unwanted sexual attention in the workplace."
The Huffington Post reached out to Huang for a comment but did not get an immediate response.
BEFORE YOU GO
PHOTO GALLERY
Women Nobel Prize Laureates in the Sciences