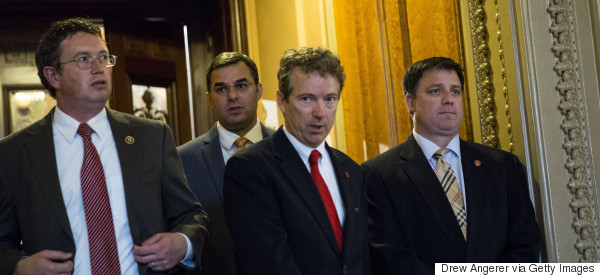 TOP STORIES
To get The Morning Email, HuffPost's daily roundup of the news, in your inbox, sign up here.
SENATE LETS PATRIOT ACT PROVISIONS EXPIRE "Sen. Rand Paul (R-Ky.) succeeded Sunday in forcing certain controversial provisions of the Patriot Act to expire, including the NSA's sweeping data collection program. But the lapse isn't likely to last long. Running down the procedural clock in a sensational emergency session Sunday night, Paul left the Senate in a stalemate on the House-passed USA Freedom Act. The bill would have allowed the NSA's controversial bulk data collection, justified under the expiring Section 215 of the Patriot Act, to continue while the intelligence community works with telecommunications companies to reform the program. The legislation failed in a last-minute vote in the Senate last week, leaving lawmakers with a mere eight hours in session before the Patriot Act provisions expired at the stroke of midnight." [Ali Watkins & Jessica Schulberg, HuffPost]
Lauren Weber is out this week. This Morning Email is Eliot Nelson's fault.
NATIONALIST PARTY MAKES GAINS IN ITALIAN ELECTION "Italian Premier Matteo Renzi's Democratic Party claimed victory Monday in five of seven regions that voted for new leaders, but the real winner was the anti-Europe and once-regional Northern League that showed strong gains nationally. The vote Sunday was marred by low turnout, with just half of eligible voters turning out on what was for many a long holiday weekend. The Northern League, led by Matteo Salvini, won handily in the northeastern region Veneto, its traditional turf. It also backed a candidate from Silvio Berlusconi's Forza Italia party in Liguria, securing his victory in the northwestern region that has long been a Democratic Party stronghold. Salvini's showing put him in position to claim leadership of the center-right from a weakened Berlusconi, said Wolfango Piccoli, a political analyst at Teneo Intelligence. Berlusconi's political fortunes have been weakened by a tax fraud conviction." [Colleen Barry, AP]
PRO-KEYSTONE XL BANKS PAID CLINTON FOR SPEECHES "Two Canadian banks tightly connected to promoting the controversial Keystone XL pipeline in the United States either fully or partially paid for eight speeches made by former Secretary of State Hillary Clinton in the period not long before she announced her campaign for president. Those speeches put more than $1.6 million in the Democratic candidate's pocket. Canadian Imperial Bank of Commerce and TD Bank were both primary sponsors of paid Clinton speeches in 2014 and early 2015, although only the former appears on the financial disclosure form she filed May 15. According to that document, CIBC paid Clinton $150,000 for a speech she gave in Whistler, British Columbia, on Jan. 22, 2015. Clinton reported that another five speeches she gave across Canada were paid for by tinePublic Inc., a promotional company known for hosting speeches by world leaders and celebrities. Another speech was reported as paid for by the think tank Canada 2020, while yet another speech was reportedly funded by the Vancouver Board of Trade. But a review of invitations, press releases and media reports for those seven other speeches reveals that they, too, were either sponsored by or directly involved the two banks." In other Clinton news, Bernie Sanders may pose a serious challenge to the former secretary of State in Iowa. [Paul Blumenthal and Ryan Grim, HuffPost]
5,000 MIGRANTS RESCUED IN MEDITERRANEAN THIS WEEKEND "The corpses of 17 migrants were brought ashore in Sicily aboard an Italian naval vessel on Sunday along with 454 survivors as efforts intensified to rescue people fleeing war and poverty in Africa and the Middle East. More than 5,000 migrants trying to reach Europe have been saved from boats in distress in the Mediterranean since Friday and operations are in progress to rescue 500 more, European Union authorities said on Sunday. In some of the most intense Mediterranean traffic of the year, migrants who left Libya in 25 boats were picked up by ships from Italy, Britain, Malta and Belgium, assisted by planes from Iceland and Finland, the EU's border control agency Frontex said..The 17 corpses found on one of the boats arrived in the Sicilian port of Augusta aboard the Italian navy corvette Fenice. Italian prosecutors are investigating how they died." [Gavin Jones, Reuters]
LINDSEY GRAHAM LAUNCHING PRESIDENTIAL CAMPAIGN "On Monday, [Graham] returns to his boyhood hometown in Pickens County to announce his most ambitious campaign to date -- for the Republican presidential nomination...Any national name recognition he enjoys is likely due to his hawkish foreign policy. Graham already is preparing voters for the likelihood that more U.S. troops will have to be deployed abroad to keep radical Islam and terrorism at bay. In talking to CBS in May about his presidential campaign, he said in his typical blunt and occasionally inflammatory way, 'I'm running because the world is falling apart.'... In a recent interview about President Obama's pursuit of a deal to curb Iran's nuclear ambitions, Graham made clear he would handle things differently. He said Iran doesn't believe Obama would use military force to prevent the country from building a nuclear weapon." [Mary Troyan, USA Today]

BIDEN'S CAREER BOOKENDED BY TRAGEDY "Biden spent the next several minutes unfurling a story he had told hundreds, if not thousands, of times before: his improbable 1972 Senate victory, the car crash that took his wife and daughter, the weeks spent coaxing his two young sons toward recovery. Joe Biden's adult life, spent almost entirely in the public eye, has now been bookended by tragedy. Before he could formally begin his Senate career, Biden buried his wife, Neilia, and daughter, Naomi. Now, as his vice presidency heads toward its final months, he will bury his oldest son, the heir to the family dynasty who was fast carving his own political identity with seemingly limitless opportunity." [Paul Kane, Washington Post]
WHAT'S BREWING

MALAYSIA AIRLINES 'TECHNICALLY BANKRUPT' "The newly appointed chief executive of loss-making Malaysia Airlines said on Monday the carrier is 'technically bankrupt', underlining the case for a restructuring to cut a third of jobs, scrap some international routes and review its long-haul fleet...Mueller was making his first public appearance as CEO since being hired last month by the carrier's owner, Malaysian state fund Khazanah, to lead the restructuring. Khazanah, previously the majority owner, took the airline private last year as part of a 6 billion Malaysian ringgit ($1.63 billion) plan aimed at returning it to profit within three years." [Al-Zaquan Amer Hamzah, Reuters]
NBC EXECUTIVES TRYING TO KEEP BRIAN WILLIAMS AT NBC "Brian Williams may lose his seat as anchor of the "NBC Nightly News," but executives are looking for a way to keep him at the network in a new role. Weeks of complex negotiations between Williams and NBC are not yet complete, according to sources with direct knowledge of the situation...A gradual return to NBC is one scenario suggested by sources close to Williams. After a thorough explanation and apology for past embellishments, he could file news reports and regain viewers' trust.Or he could exit the network altogether -- a scenario that some people continue to believe is quite likely. In that case, Williams would likely be paid a significant portion of his contract, which he signed at the end of last year. It was reportedly worth about $10 million a year for five years." [Brian Stelter, CNN]
KANYE WEST AND KIM KARDASHIAN EXPECTING SECOND CHILD "Soon there will be one more Kardashian we'll need to keep up with. Kim Kardashian is pregnant with her second child. The reality star announced the good news in a teaser at the end of the mid-season finale for 'Keeping Up with the Kardashians' on Sunday night. 'I just got the blood test back, and I am pregnant!' Kim tells her sister Khloe in the clip. Kardashian, 34, and Kanye West, 37, welcomed their first daughter, North West, in June 2013. Since tying the knot in Italy in May 2014, they've made it no secret of their plans to expand the family." [Stephanie Marcus, HuffPost]
LAST NIGHT'S 'GAME OF THRONES' THRILLS VIEWERS "Near the end of an odd, shapeless season, it's nice to see Game Of Thrones still has the capacity to surprise....We know so much about how this show works now, have so many expectations for the patterns it follows, that surprises don't come as readily as they once did. 'Hardhome' is a welcome reminder that you know nothing, Game Of Thrones viewer." [Erik Adams, AV Club]
WHAT'S WORKING
HOW ONE JAIL REDUCED ITS POPULATION BY 30 PERCENT IN SIX YEARS "At the heart of the jail's re-entry program is a community center, established in 1996 in Springfield's Mason Square, that serves as a hub to connect soon-to-be ex-offenders with local resources. Since 2006, the program has also offered a high-risk offender initiative, and in 2007, it added a lower-security community re-entry unit in the jail and began to make available re-entry assistants to work intensively with inmates both before and after their release." [Joseph Erbentraut, HuffPost]
ON THE BLOG
ARIANNA'S VASSAR COMMENCEMENT ADDRESS "We have, if we're lucky, about 30,000 days to play the game of life. And trust me, that's not morbid. In fact, it's wisdom that will put all the inevitable failures and rejections and disappointments and heartbreaks into perspective. Because as the great Onion headline summed it up, 'Death Rate Holding Steady at 100%' So let's stop sweeping it under the rug. That's a modern impulse. Ancient Romans would carve 'MM,' Memento Mori, Remember Death, on statues and trees -- to put every victory and every defeat into its proper perspective. I'm not sure if you want to carve it on the sex tree, though, because things could get weird." [HuffPost]
BEFORE YOU GO
~ What if men had periods.
~ Neil Young released an anti-Starbucks anthem.
~ How to balance exercise and sleep.
~ Wheaton College has removed Dennis Hastert's name from its public policy center.
~These black-footed cat kittens will add a smidgen of happiness to your Monday.
~ Chris Pratt and Melissa McCarthy's early headshots.
~ Marbles!
Send tips/quips/quotes/stories/photos/events/scoops to Lauren Weber at lauren.weber@huffingtonpost.com. Follow us on Twitter @LaurenWeberHP. And like what you're reading? Sign up here to get The Morning Email delivered to you.