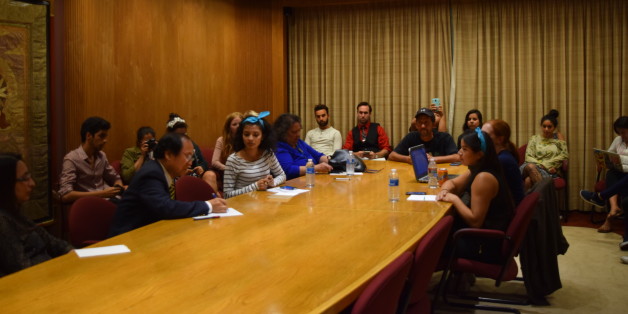 On May 13, Lexi Weyrick, Alejandra Melgoza and Melissa Vasquez, students at the University of California, Santa Barbara, began a 13-hour sit-in at the office of Chancellor Henry Yang, hoping to change how the school handles sexual assault. The students spent five of those hours negotiating demands with Yang. They left just before 3 a.m. with a signed set of agreements the chancellor said he would pursue.
It was an encouraging note for the 2014-2015 school year to end on -- a year where similar signs of progress have been seen around the country. As more schools have come under investigation for alleged failures to address sexual violence, there have been some tangible changes -- in the legal, administrative and social realms -- to improve circumstances, thanks in large part to persistent student activism.
"Our voices have power," Weyrick told The Huffington Post. "As long as we are willing to dedicate ourselves, we can make change happen."
On May 29, Yang hosted an open forum to discuss issues around sexual assault with UCSB students. In addition to the demands at their school, Weyrick, Melgoza and Vasquez say they want to implement change across the University of California system. The university is now arranging for them to meet with officials from the UC Office of the President in Oakland, a spokesperson confirmed. The full text of the agreements from the sit-in can be found at the bottom of this article.
Besides UCSB, many schools introduced new or updated sexual assault policies this year. Schools including Arizona State University, the University of North Carolina at Chapel Hill and the University of South Florida now require students to take classes on consent and assault. Although these changes have drawn some criticism, they are nevertheless a sign that these campus communities are not just sitting on their hands.
The Student Efforts To Improve Campus Safety
Student groups have stepped up to provide help within their schools. Students at Duke University created a support group for sexual assault survivors and campaigned for changes on campus. Students at the University of Texas at Austin started a campaign to stop sexual violence on campus, while Iowa State University students demanded answers from their administration.
The University of Virginia launched a bystander awareness campaign, "Hoos Got Your Back," at the beginning of the school year. The campaign encourages students to look out for each other, especially to prevent sexual assault. The effort became more poignant following the slaying of U.Va. student Hannah Graham, whose remains were discovered in October after she had been missing for over a month.
A number of candidates for student government have featured sexual assault policies prominently in their platforms, in a sign of how extensive the conversation surrounding these issues has become. Addressing sexual assault has been a major platform point in elections at George Washington University, the University of Iowa, Vanderbilt University and UT Austin.
Meanwhile, fraternities at schools like the University of Kansas, the University of Utah, Iowa State and the University of Missouri have instituted training programs and called for an end to sexual assault. At Missouri, the Interfraternity Council budgeted more than $22,000 to create a peer educator program. Critics have suggested that some of the fraternities may be acting less out of a genuine desire to address the problem and more because of fear or PR concerns, but advocates say they welcome any student effort that could make campuses safer.
As Virginia Attorney General Mark Herring (D) put it to HuffPost last week, "I really get the sense that this generation of students really wants to change the climate."
How Schools Have Reformed In The Wake Of Controversy
Schools that have faced particular criticism from both students and the public have been working on reforms. At the University of Kansas, following a HuffPost report on a student who was found guilty of nonconsensual sex yet received a very mild punishment, students put pressure on the school to change how it handles sexual assault. Last month, a sexual assault task force at the school presented its recommendations to the chancellor and provost.
University of Iowa President Sally Mason faced criticism and protests on campus last February after she told a student newspaper that ending sexual assault was "probably not a realistic goal." Later that month, Mason spoke publicly about her own experience with sexual assault. Throughout this school year, Mason has continued to keep sexual assault at the forefront of her work. In February of this year, she gave an update on her "Six Point Plan to Combat Sexual Assault" showing areas in which the school has been improving.
The First Year Of 'It's On Us'
In September, President Barack Obama launched "It's On Us," an initiative meant to raise awareness among students and encourage personal responsibility for helping to end campus sexual assault. Many schools are participating, and big-name partners have included EA Sports, the U.S. Olympic Committee, BET, MTV, Microsoft and several athletic conferences.
The NCAA backed a competition to make an anti-assault video. The University of North Carolina at Charlotte ultimately won that contest, beating out 40 other schools. Greek organizations have also been involved, including local chapter meetings hosted by seven fraternity partners to discuss how to have a safe spring break.
There were weeks of action in the fall and spring where campuses across the country hosted awareness events and training programs. So far, 215,476 people have taken the "It's On Us" pledge and more than 370 events have been hosted on college campuses, the organization told HuffPost.
State-Level Efforts To Improve Sexual Assault Policies
In Virginia, a task force gave recommendations last week that included making it easier for students to report sexual assault. The University of Virginia is attempting to do this with its "Just Report It" online system, introduced this past spring.
Various pieces of legislation in other states have addressed different aspects of campus sexual assault this year. Texas now requires public colleges to have more detailed policies on sexual assault. Oregon passed a bill to protect conversations between survivors and advocates. Several states have considered bills that would require schools to note sexual violence on the transcripts of students punished for it, and Virginia is the first state to sign such a bill into law.
Demands agreed to between activists and Chancellor Yang at the UCSB sit-in:
UCSB Sexual Assault Handling Demands - 5/14/2015 by Alexandra Svokos