The theft of family dogs is up in the U.K., according to an investigation by the Mirror newspaper, and activists allege that police are not doing enough to combat the crimes.
Some 1,310 thefts were reported from February 2014 to February 2015, according to information obtained by the paper. This marks a 20 percent increase over the 1,092 thefts reported in the 12 months prior to February 2014. The investigation includes data from 35 of England's and Wales' 43 police forces. Greater London was not included.
Staffordshire bull terriers are the most commonly stolen breed, according to the data. Chihuahuas and German shepherds are also commonly targeted.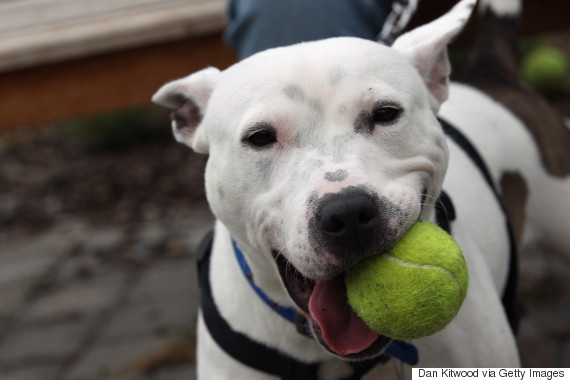 A Staffordshire bull terrier plays plays with a ball at Battersea Dogs & Cats Home as she awaits a possible new owner in 2010 in London, England. (Photo by Dan Kitwood/Getty Images)
Owners and animal activists are frustrated because British law does not consider the dognappings to be different from the theft of any other property, according to The Guardian.
Dogs are often sold on the black market. A spokesman for an organization that reunites owners with lost or stolen dogs believes the actual theft numbers are probably higher.
"We say that about a third of the dogs we help reunite are reunited in suspicious circumstances and, on the basis that we had 12,000 dogs reported missing to us last year, we can say about 4,000 of those were probably stolen," Nik Oakley of Dog Lost told The Guardian.
He said dog thefts are no longer necessarily one-off incidents, and often involve organized heists from targeted places like kennels.
"For thieves, the rewards can be high and the risks low," Sylvia Tabor, chairman of the Dog Theft Action organization, told the Mirror. "So it's sadly seen as easy money."
"Unfortunately, it can also often be seen as a low priority by police."
There appear to be fewer recent statistics on dognapping in the U.S., but thefts also occur in this country. The American Kennel Club reported tracking "more than 590" pet thefts in 2013, a 31 percent increase over its 2012 numbers.
BEFORE YOU GO