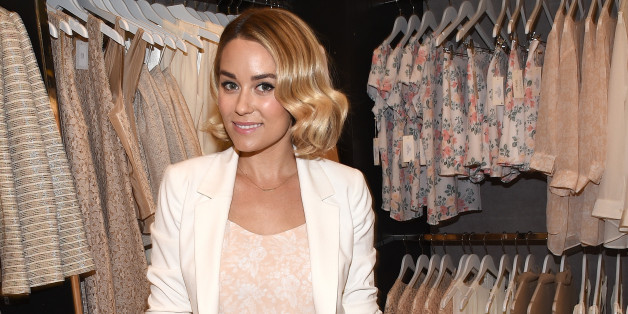 Lauren Conrad is banning words from her site -- and it's all in the name of body positivity.
Conrad's lifestyle site covers a variety of topics including healthy eating and fitness. The fashion designer and her team have realized that the terminology they use in their posts about exercise and health isn't exactly positive when it comes to body image. A new post titled "Letter from Lauren: June Shake Up" revealed that the editorial team will soon say goodbye to terms focused on shapes and sizes:
When we've talked about getting in shape in the past, words like "skinny," "slim," and "thin" have often come up. Starting this month, we'll be banning any body shaming terms from the site, and replacing them with words like "fit," "toned," and "healthy." We try do to [sic] this for the most part anyway, but now we're making it official! The word skinny will now be reserved for skinny jeans. My editorial team and I had a long talk about it, and we want to make sure that the focus is on being fit as opposed to a number on the scale. Every body is created differently -- and healthy bodies come in all shapes and sizes.
It's important to note that many women's bodies are naturally thin or slim, but moving the aspirational quality from the words is a positive step. If people are making an effort to make healthy decisions, being skinny, slim or any other shape or size shouldn't matter.
After hearing the news, women expressed their support on Twitter.
This chick will forever be my hero! @LaurenConrad https://t.co/ibIpgDTUDl

— Lauren DiZazzo (@laurendizazzo) June 1, 2015
As if @LaurenConrad wasn't already my idol...now she bans the word "skinny" from her site. I love her

— aмn. (@alexanapp) June 1, 2015
And another #yaaaasqueen: Lauren Conrad Bans the Word "Skinny" From Her Website http://t.co/nklnPOjxiM via @thr

— Nicole Trieste (@nicolejaclyn) June 1, 2015
@LaurenConrad thank you! A lot of people don't use the right words. #healthy #fit 👊🏼

— twolilmonkez (@twolilmonkez) June 1, 2015
@LaurenConrad @laurenconradcom Love this! Hoping it encourages others to do the same. You're blazing the trail! 👍🏻

— Sarah Ramey (@SarahLRamey) June 1, 2015
For something as simple as replacing a few words, Conrad's move is definitely a step in the right direction when it comes to promoting positive body image.

BEFORE YOU GO
PHOTO GALLERY
Inspiring Celebrity Body Image Quotes