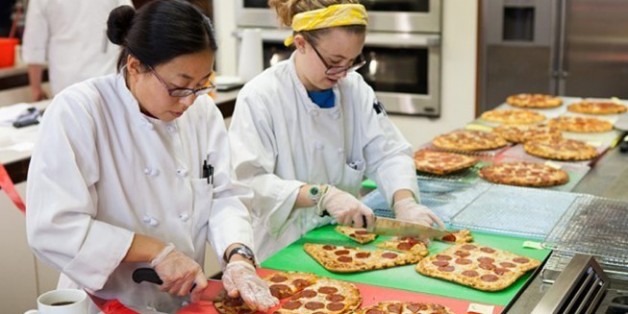 While we normally suggest making meals from scratch here at HuffPost -- especially when you can make pizzas that look this good -- we know that there are nights when frozen pizza is the only option. No one expects greatness when they heat a frozen pizza for dinner, but we all hope for something that will at least hit the spot. Unfortunately, that's not often the case.
The fine folks at America's Test Kitchen felt our struggle and they set out to find who's making the best frozen pizza. They tested pepperoni, because clearly that's the most popular option. Being thorough and scientific, they rated seven different pies based on a multitude of factors: cheese, sauce and crust, naturally.
They pitted new frozen artisanal options against national top sellers and their results were somewhat surprising. What they found was a wide range of results that ranked from terrible to terrific. Here are the top three:
Pizzeria! By DiGiorno Primo Pepperoni the number one spot.
Freschetta Brick Oven Crust Pepperoni and Italian Style Cheese
Red Baron Fire Baked Pepperoni Pizza
Sort of surprising, but what was most shocking was who they ranked last. Head on over to their site for the full review and to see which frozen pizza you should never waste your money on.
Follow Us On Pinterest
|
Like Us On Facebook |

Follow Us On Twitter
BEFORE YOU GO
PHOTO GALLERY
Best Pizza Recipes