Boring grilled chicken, blah salad greens, blanched veggies, even a ho-hum bowl of lentils: Meet your new best friend.
Terry Hope Romero's take on the classic French dressing of olive oil, shallots and mustard is amazingly versatile and comes together in a flash. Even better, this vinaigrette is relatively low-fat, using far less oil while still creating a smooth, satisfying base. Because there is a little olive oil included for flavor, Romero suggests using top-notch, cold-pressed varieties to get the most bang for your dressing buck.
Chia Seed Vinaigrette
By Tony Hope Romero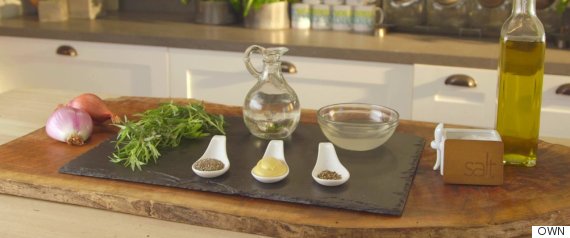 Makes 1 cup
Ingredients
1/2 c. pure coconut water
1 Tbsp. chia seeds
2 Tbsp. white wine vinegar or rice vinegar
2 Tbsp. olive oil
2 Tbsp. shallots, finely minced (about 1 large shallot clove)
1 heaping Tbsp. smooth Dijon mustard
1 Tbsp. fresh tarragon, minced (or 1 tsp. dried)
1/2 tsp. salt
1/4 tsp. black pepper
Directions
Whisk all of the ingredients together until smooth. (If you want a smoother, thicker dressing, pulse in a blender until the seeds are puréed.)
Pour into a glass jar, cover tightly and chill for at least an hour to thicken slightly. Store chilled and use within five days for best flavor.
From Salad Samurai: 100 Cutting-Edge, Ultra-Hearty, Easy-to-Make Salads You Don't Have to Be Vegan to Love by Terry Hope Romero. Reprinted courtesy of Da Capo Lifelong Books.
Pairs well with: Full-Flavor, Low-Fat Cobb Salad
BEFORE YOU GO
PHOTO GALLERY
7 Easy Summer Salads