The Oklahoma Highway Patrol has released dashcam video of the moments before a state trooper fatally shot a man during a flood rescue last Friday.
The footage shows Nehemiah Fischer, 35, and his brother Brandon, 41, emerging from the dark in knee-deep water and rushing at a Highway Patrol officer who was directing them.
"Highway Patrol! Settle down, right now! Do you understand me?" trooper Mark Southall, an eight-year veteran, orders right before one of the men, whom cops identified as Nehemiah, charges him and pushes him out of frame. The other officer, Michael Taylor, draws down on the men, and right before the video ends is heard yelling a warning that he will shoot them.
OHP spokesman Capt. Paul Timmons told the Associated Press that the man who rushed the trooper was Nehemiah Fischer, an assistant pastor at a Tulsa church. He was shot and killed in the ensuing struggle.
The footage shared by police Monday constitutes only a fraction of the altercation, the rest of which occurred off camera, a Highway Patrol spokesman told ABC News. At some point during the scuffle, the trooper was pushed to the ground. Both troopers discharged their weapons in the incident, but it's not yet clear who fired the fatal shot, police said.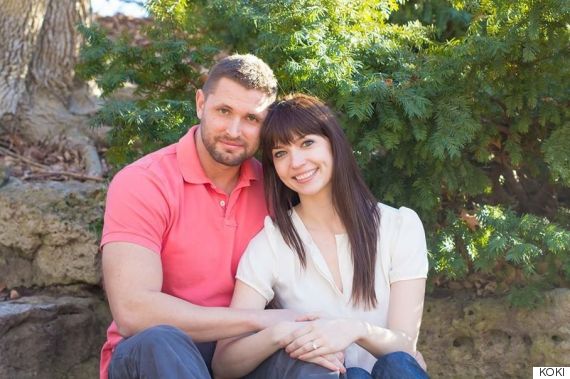 Nehemiah Fischer (left) and wife Laura
Laura Fischer, Nehemiah's widow, told KOKI that her late husband was a kind and gentle man, and that she had a hard time believing he or his brother would attack a law enforcement officer.
"I can't picture that happening," she told the station in a tearful interview. "They would not have gone after the trooper. They would not do that on their own volition."
Fischer's father, J.R., told the Associated Press in a telephone interview that his slain son was "gentle as a dove" and "the real deal ... when it came to being a Christian man."
It appears alcohol may have played a role in the incident. An attorney for the troopers, Gary James, told KWTV that Brandon Fischer told officers that he and his brother had been drinking whiskey while fishing prior to the trouble starting. Brandon Fischer faces charges of assaulting an officer and public intoxication.
James told the station that regardless of the shooting victims' character, it's apparent from the video that he attacked an officer.
"They might be great guys, I don't know, but they're obviously cursing state troopers and Nehemiah attacked the guy," James said. "When he gets up to him, it's well enough lit that he knows he's knocking a state trooper to the ground."
Like Us On Facebook |

Follow Us On Twitter |

Contact The Author
BEFORE YOU GO
PHOTO GALLERY
Police Brutality Incidents