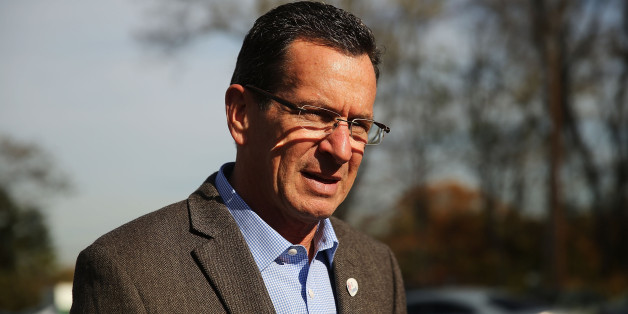 Connecticut passed a two-year, $40 billion budget on Thursday that will raise taxes and increase infrastructure spending despite the objections of major corporations and Republican legislators.
The budget survived a last-minute Republican filibuster in the state Senate at midnight on Wednesday, and now heads to Gov. Dannel Malloy (D), who's expected to sign it into law. Malloy, who helped draft the budget bill with state Democrats, has said that it represents a "historic investment" in transportation.
The bill reflects the priorities of Connecticut's Democratic legislators, who control both the state's House of Representatives and its Senate. Even so, the votes were close in each chamber, with several Democratic legislators joining Republicans to vote against it.
Connecticut's new budget includes a $2.8 billion increase in transportation infrastructure funding over five years, including $1.77 billion for rail transportation. The state is building a commuter train line, the Hartford Line, that would run from New Haven, Connecticut, to Hartford, Connecticut, and on to Springfield, Massachusetts. The line is expected to go into operation in late 2016.
The budget also provides funding for nearly 200 additional state employees in the next two years.
In order to pay for the funding increases, the state is raising $1.5 billion in new revenue, of which $1.1 billion will come from tax hikes. The tax hikes include $700 million in increased taxes on businesses.
Prior to the bill's passage, General Electric, Aetna and the insurance company Travelers, all large corporations based in Connecticut, publicly criticized the tax increases.
General Electric, which is headquartered in Fairfield, Connecticut, went so far as to announce that it would consider leaving the state if the proposed tax increases became law.
After the law's passage, General Electric reiterated its intention to relocate. In a Thursday email obtained by the Hartford Courant, General Electric CEO Jeffrey Immelt told the company's Connecticut employees that he had "assembled an exploratory team to look into the company's options to relocate corporate HQ to another state with a more pro-business environment."
At a press conference, Malloy said that he was working to address the companies' concerns about doing business in Connecticut.
"I've had conversations with folks at GE over the last few days, I'm sure those will continue,'' Malloy said. "I've had discussions with Travelers, I've had discussions with the Aetna over the weekend, and will continue to work with those companies about some of their concerns.''
Malloy won a second term as governor by a small margin in 2014. In 2011, under Malloy's leadership, Connecticut was one of a small number of states to dramatically raise taxes in order to address Great Recession-era fiscal shortfalls. Connecticut does not have gubernatorial term limits.
BEFORE YOU GO
PHOTO GALLERY
United States Governors