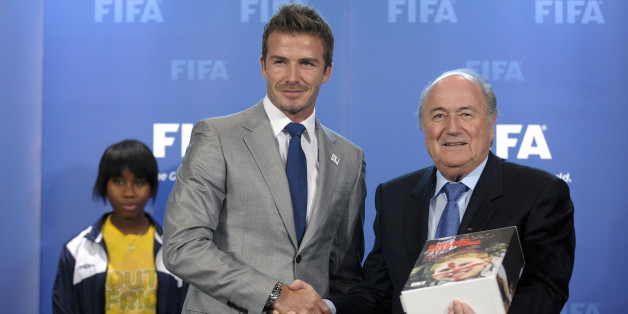 "Despicable, unacceptable and awful."
Yep, David Beckham just about covered it in his assessment of the FIFA corruption scandal, the BBC reported.
After Sepp Blatter announced Tuesday he would step down as FIFA president in the wake of bribery, racketeering and fraud charges against several officials, England's former captain spoke his mind Wednesday. In a statement posted by several outlets, Beckham declared it was time for change:
"Some of the things that we now know happened were despicable, unacceptable and awful for the game we love so much. Whilst it has not been good to read some of the headlines surrounding our sport recently, I hope at last we are now moving in the right direction. Football is not owned by a few individuals at the top, it belongs to the millions of people around the world who love this sport. It is time for FIFA to change and we should all welcome it."
Beckham once helped spearhead England's bid to host the 2018 World Cup that eventually went to Russia. The soccer great previously said he had a "sick feeling" because he felt misled by FIFA executive committee members who had supposedly pledged their support to England's effort.
Among several matters moving forward, Swiss prosecutors and the FBI are looking into the bidding process for both 2018 and 2022, the latter awarded to Qatar.
BEFORE YOU GO
PHOTO GALLERY
Sponsors FIFA