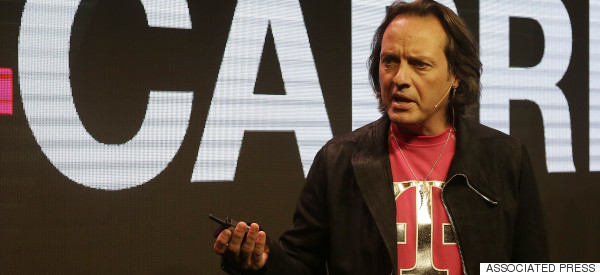 TOP STORIES
To get The Morning Email, HuffPost's daily roundup of the news, in your inbox, sign up here.
DISH NETWORK IN TALKS TO MERGE WITH T-MOBILE US "Dish Network Corp. is in talks to merge with T-Mobile US Inc.,people familiar with the matter said, a deal that would accelerate a wave of consolidation across the U.S. media and communications industries. The two sides are in close agreement about what the combined company would look like, with Dish Chief Executive Charlie Ergenbecoming the company's chairman and his T-Mobile counterpart,John Legere, serving as the combined company's CEO, the people said. Tougher questions about a purchase price and the mix of cash and stock that would be used to pay for a deal remain unresolved, the people said. One of the people characterized the talks as at "the formative stage," and said an agreement might not ultimately be hammered out." [WSJ]

RICK PERRY RUNNING FOR PRESIDENT AGAIN "Former Texas Gov. Rick Perry (R) announced on his website Thursday that he is running for president. Again. In a video featuring a montage of U.S. landmarks and Perry meeting with mostly white groups of people, he claims the country needs a leader that can revive 'this American dream again.' 'You see a lot of candidates will say the right things. Whether it's about the border, whether it's about taxes, whether it's about spending, but we need a president who has done the right thing,' Perry said in the video. 'We need a president who bridges the partisan divide rather than widens.' The post came hours after a senior advisor tipped off The Associated Press that Perry was planning to run. According to the Washington Post, he's scheduled to officially launch his campaign at an airplane hangar in Dallas later today." [Paige Lavender, HuffPost]
MUBARAK TO STAND TRIAL FOR PROTESTER DEATHS "Former Egyptian President Hosni Mubarak will face a second and final retrial over the killing of protesters during the 2011 uprising that ended his 30-year rule, a high court said on Thursday. Mubarak, 87, was originally sentenced to life in prison in 2012 for conspiring to murder 239 demonstrators, sowing chaos and creating a security vacuum during the 18-day revolt, but an appeals court ordered a retrial. In that retrial, an Egyptian court in November dropped its case against him but the public prosecution appealed that. On Thursday, Judge Anwar Gabri accepted the prosecution's appeal and said Mubarak would be tried again on Nov. 5 by the high court. He was not present at the court. The ruling was seen as a triumph of sorts for opponents of Mubarak who perceive his treatment by the courts as too lenient." [Reuters]
MH370 SEARCH MAY END NEXT YEAR "The underwater search for missing Malaysia Airlines Flight 370 could come to an end in the first half of next year. Search teams have been combing a vast area of the seafloor in a remote part of the southern Indian Ocean, hunting for traces of the passenger jet and the 239 people it was carrying. The search zone, where officials believe the Boeing 777 is most likely to have ended up, was expanded earlier this year from 60,000 square kilometers to 120,000 kilometers, bigger than the U.S. state of Pennsylvania. Australia, which is leading the underwater hunt, announced Wednesday that the zone is unlikely to get any bigger." [Jethro Mullen, CNN]
STAY CLASSY, TED CRUZ "Sen. Ted Cruz (R-Texas) made a crass and poorly timed joke about Vice President Joe Biden on Wednesday, days after Biden's son Beau died from brain cancer. According to Detroit News reporter Chad Livengood, Cruz was speaking at a meeting of the Livingston County Republican Party outside Detroit when he mocked Biden. 'Vice President Joe Biden. You know the nice thing? You don't need a punch line,' Cruz said. Biden's son Beau died on Saturday from brain cancer. The family is holding a public viewing on Thursday in Dover, Delaware. On Saturday, President Barack Obama is to deliver a eulogy at the funeral in Wilmington, Delaware."
[Marina Fang, HuffPost]
WHAT'S BREWING

CAN TIDAL SURVIVE? "Six weeks later, the game has not been changed forever. And Tidal's messy first impression -- made worse by an even more bombastic press conference -- continues to haunt the company... The company is banking on its ticketing service and Tidal X concert series to separate it from the pack. The ticketing program gives subscribers early access to concert and music festival tickets, as well as exclusive access to Tidal X tickets directly on an artist's page within the app. Live Nation -- the massive concert promoter that puts on tours for a number of Tidal's owners -- worked with the company to integrate Ticketmaster into the app to power the back end of the ticketing service, and Tidal will receive a portion of the ticket fee revenues." [Micah Singleton, Verge]
DUGGARS BREAK SILENCE ""On Wednesday, "19 Kids and Counting" stars Jim Bob and Michelle Duggar broke their silence for the first time since their oldest son Josh admitted that he molested five underage girls, including his sisters Jessa and Jill. The Duggar parents additionally admitted to keeping the matter from police. In an two-part interview with Fox News' Megyn Kelly, the first of which aired Wednesday night, the conservative Christians, who follow the Quiverfull movement, explained how they responded when their son first confessed to them. 'There so much grief in our hearts. I think, as parents, we felt, 'We're failures,'' Michelle said. 'We've tried to raise our kids to do what's right -- to know what's right -- and yet one of our children made some really bad choices and I think, as a parent, just, we were devastated.'" [Stephanie Marcus, HuffPost]
THANK GOD: JAMIE DIMON FINALLY A BILLIONAIRE "The JPMorgan Chase CEO and chairman's net worth is now estimated at $1.1 billion, according to the Bloomberg Billionaires Index. His fortune has soared as shares in the country's largest bank by assets, in which he has a $485 million stake, near a record high. Bank executives do not usually become billionaires. Though Dimon took home a pay package worth $20 million last year, financiers in the three-comma club usually accumulate wealth through money management and hedge funds, according to Bloomberg. But Dimon, long a silver-coiffed media darling, has proven himself to be a survivor, even in one of the industry's most volatile eras in recent history. After helping to assemble Citigroup, he was forced out in 1998 by his boss and mentor, Sandy Weill. Dimon revived Chicago-based Bank One and sold it to JPMorgan in 2004. He became the chief executive of the combined bank in 2005 and, the next year, added the chairman title." [Alexander Kaufman, HuffPost]
HOW ELECTRONIC ARTS STOPPED BEING THE WORST COMPANY IN AMERICA "[M]ore than 250,000 people cast their votes on the advocacy website Consumerist and crowned EA the worst company in America the year before, beating out Bank of America...Winning the worst company award served as a wake-up call for EA, helping to convince executives they needed to change the way they thought of their customers. That rethinking has paid off: Over the past year, EA's sales, which declined in the year leading up to Probst's April meeting, have swung back to growth. Profit has skyrocketed to $875 million from $8 million in 2014, and the company's stock price has soared...EA built sophisticated computer systems to begin tracking customers' behavior, from their purchasing decisions to how they played games. The amount of information was astronomical. Today, EA collects more data in 24 hours than the US Library of Congress has in its entire archives." [CNET]
WHAT'S WORKING
EFFORTS TO RESTRICT VOTING RIGHTS STYMIED "A number of state legislatures are adjourning, and supporters of expanded access to the ballot box may be sighing in relief as they see some of the major efforts to restrict voting access were stymied during this legislative session. Then again, they may be disappointed that bills to restore voting rights to felons were squashed, or that courts haven't yet shut down strict new voter identification requirements in Arizona, North Carolina and Texas...As the Brennan Center for Justice at New York University highlighted Wednesday, "For the third year in a row, bills to expand voters' access to the ballot box outpace those to restrict voting, both in terms of introduction and enactment.' Of course, as the center notes, restrictions passed since the wave that swept the GOP to power in a slew of state legislatures in 2010 have continued to limit voting rights." [Samantha Lachman, HuffPost]
ON THE BLOG
'TERRORISM' OR 'VIOLENT EXTREMISM'? "The two recent attacks on mosques in eastern Saudi Arabia can't be labeled as anything but evil acts of terrorism. Now, such a classification seems obvious to most of us, as there isn't a term that is more expressive to describe these ideologically-driven, murderous attacks on a group of innocent people who were simply practicing their basic right of observing Friday prayers. However, having just attended brain-storming sessions at the regional World Economic Forum (WEF) summit in the Dead Sea, I fear there might be some confusion as to what is defined as terrorism and what isn't." [HuffPost]
BEFORE YOU GO
~ Stephen Colbert filmed a feature about his beard ahead of the September launch of "The Late Show. "
~ Just a mashup of the most emotional moments from Pixar films to start your day a complete wreck.
~ How to store your data for a million years.
~ Godzilla was given Japanese citizenship.
~ A man played guitar during brain surgery to help surgeons identify any mishaps during the procedure.
Send tips/quips/quotes/stories/photos/events/scoops to Lauren Weber at lauren.weber@huffingtonpost.com. Follow us on Twitter @LaurenWeberHP. And like what you're reading? Sign up here to get The Morning Email delivered to you.