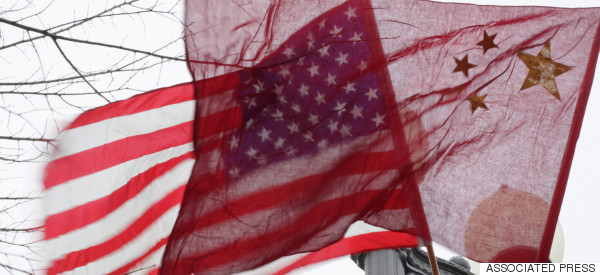 TOP STORIES
To get The Morning Email, HuffPost's daily roundup of the news, in your inbox, sign up here.
U.S. GOVT COMPROMISED BY CHINESE HACK "China-based hackers are suspected of breaking into the computer networks of the U.S. government personnel office and stealing identifying information of at least 4 million federal workers, American officials said Thursday. The Department of Homeland Security said in a statement that data from the Office of Personnel Management and the Interior Department had been compromised. 'The FBI is conducting an investigation to identify how and why this occurred,' the statement said. The hackers were believed to be based in China, said Sen. Susan Collins, a Maine Republican. Collins, a member of the Senate intelligence committee, said the breach was 'yet another indication of a foreign power probing successfully and focusing on what appears to be data that would identify people with security clearances.'" [Ken Dilanian and Ricardo Alonso-Zaldivar, AP]
REPUBLICANS WON'T CONFIRM OBAMA'S COURT NOMINEES "Senate Republicans have been slow-walking President Barack Obama's judicial nominees all year. It looks like things are about to get even less productive. Senate Majority Leader Mitch McConnell (R-Ky.) said Thursday that he doesn't expect to confirm any of Obama's circuit court nominees for the remainder of his time in office, a blow to White House efforts to fill empty federal court seats despite working with a Republican-controlled Senate. In an interview with conservative radio host Hugh Hewitt, McConnell was asked about judicial confirmations. 'So far, the only judges we've confirmed have been federal district judges that have been signed off on by Republican senators,' McConnell said. Asked if he expects that to be the case through 2016, McConnell said, 'I think that's highly likely, yeah.'" [Jen Bendery, HuffPost]
ALL EYES ON JOBS REPORT "For months, analysts have said that wages are poised to rise as the unemployment rate has fallen. But those gains have repeatedly failed to materialize, as wages have remained stagnant since the end of the recession. If Friday's report shows an increase of, say, 0.3 percent or more in the hourly earnings, that could go a long way to buoying the economic outlook for ordinary Americans." [Patricia Cohen, NYT]
YANGTZE DISASTER RESPONSE SHIFTS TO RECOVERY PHASE "Disaster teams that have recovered 77 bodies from a capsized cruise ship in the Yangtze River finished righting the previously overturned vessel on Friday to quicken the search for more than 360 other victims still missing. The operation started late Thursday to right the Eastern Star and shifted the focus from finding survivors from Monday night's sudden capsizing in a severe storm to retrieving bodies. State broadcaster CCTV announced Friday morning that the boat had been righted, and that teams would still try to lift the vessel even though the water inside it was weighing it down. Transport Ministry spokesman Xu Chengguang said earlier that the operation would involve divers putting steel bars underneath the ship, which would then be lifted by two 500-ton cranes. A huge net was placed near the cranes and another one a few meters (yards) downstream to catch any bodies." [Christopher Bodeen and Louise Watt, AP]
WHAT'S BREWING

ARE THE IOWA CAUCUSES KAPUT? "As Iowans look around this spring, though, they increasingly worried that the combination of an uncompetitive Democratic field and a huge, sprawling Republican field might mean the state's power won't be what it once was. There's a palpable anxiety in political circles—and even rumblings that Iowa's king-making days might be over, or at least that the national media, and the rest of the country, will pay less heed this cycle. Iowa's political obituary has been written before, but usually by outsiders looking in. Now, Iowans are fretting: Will campaigns still want to invest as much time campaigning, traveling and running ads on television and radio, when their time might be better served elsewhere with the hope they can raise their national standing in the polls?" [Dave Price, Politico]
WARRIORS TAKE GAME ONE "After an eight-day break, the NBA's top teams and biggest stars put on quite a show. Only one kept it up for 53 minutes. And only one survived without a serious injury. Stephen Curry had 26 points and eight assists, and the Golden State Warriors held off LeBron James and the Cleveland Cavaliers for a thrilling 108-100 overtime victory in Game 1 of the NBA Finals on Thursday night. 'It was just a classic five minutes that we needed to get that win,' Curry said of the overtime. In the finals for the first time in 40 years, the Warriors gave their long-suffering fans quite a treat. They rallied from an early 14-point deficit, absorbed a finals-best 44 points from James and shut down Cleveland in the extra session." [Antonio Gonzalez, AP]
'FEMALE VIAGRA' GETS FDA APPROVAL "A drug aimed at helping women who've lost their sex drive cleared a key hurdle Thursday, winning backing from an FDA panel. An FDA advisory committee voted 18-6 to recommend that the FDA approve the drug flibanserin for the treatment of hypoactive sexual desire disorder in premenopausal women. The panel's recommendation will be given to the Food and Drug Administration, which will ultimately decide whether to approve the drug, dubbed by some as 'female Viagra.' The FDA often follows the recommendations made by advisory committees but is not required to do so. 'I am elated, very happy to hear this,' Dr. Margery Gass, a sexual dysfunction expert at Cleveland Clinic, said after Thursday's vote. 'I think women are going to be very appreciative of having something they can try for this problem.'" [CNN]
SARAH PALIN GOES AFTER LENA DUNHAM "Sarah Palin is lashing out at the media for how it has covered the sexual abuse revelations about '19 Kids And Counting' star Josh Duggar while giving 'Girls' star Lena Dunham a free pass. Writing on her Facebook page, Palin compared the media storm over Duggar, whose parents confirmed on Fox News this week that he had 'improperly touched' some of his sisters when he was a teenager, to that of Dunham, who wrote in her book 'Not That Kind of Girl' that, as a 7-year-old child, she gave candy to her 1-year-old sister in exchange for kisses and a look at her vagina. 'I'm not an apologist for any sexual predator, but I'm sickened that the media gives their chosen ones a pass for any behavior as long as they share their leftwing politics,' Palin wrote." [Ed Mazza, HuffPost]
HORSE FRIENDS "People watching American Pharoah take his exercise at Belmont Park on Thursday morning could not help noticing that he had a friend with him. It happened to be a 6-year-old gelding named Smokey, who has been serving as general companion and calmer of nerves for American Pharoah during the horse's potentially stress-filled attempt to become the first Triple Crown winner since 1978...A lot of barns use companion ponies, or barn ponies, to provide steadying presences for nervy thoroughbreds that, like most high-maintenance creatures, do better with buddies who are less demanding then they are themselves (there is room for only one diva in a stall)...But sometimes other species will do just fine. "Some horses don't necessarily want other horses," Jill Baffert said. A thoroughbred at Belmont named Strong Impact, for instance, keeps company with a pig named Charlie." [Sarah Lyall, NYT]
WHAT'S WORKING
BILL & MELINDA GATES TACKLE HUNGER "Melinda Gates announced on Thursday that her and husband Bill's foundation will spend $776 million tackling hunger over the next six years, doubling existing commitments. Gates made the announcement in Brussels, where she urged European leaders to make the nutrition of women and children a priority. The huge pledge also unlocks $180 million in matched funding from Britain's Department for International Development. 'Malnutrition is the underlying cause of nearly half of all under-5 child deaths,' said Gates. 'Yet for too long the world has underinvested in nutrition. Today we see an opportunity to change that.' Much of the money will be spent in India, Ethiopia, Nigeria, Bangladesh and Burkina Faso, where there is serious malnutrition and a real chance to make positive changes, the foundation said.
[Reuters]
ON THE BLOG
TIME TO RAISE THE ESTATE TAX ON THE WEALTHY "At a time of historic economic inequality, it should be a no-brainer to raise a tax on inherited wealth for the very rich. Yet there's a move among some members of Congress to abolish it altogether. If you're as horrified at the prospect of abolishing the estate tax as I am, I hope you'll watch and share the accompanying video. Today the estate tax reaches only the richest two-tenths of one percent, and applies only to dollars in excess of $10.86 million for married couples or $5.43 million for individuals. That means if a couple leaves to their heirs $10,860,001, they now pay the estate tax on $1. The current estate tax rate is 40%, so that would be 40 cents." [Robert Reich, HuffPost]
BEFORE YOU GO
~ The difference between "partially cloudy" and "mostly sunny."
~ Princess Charlotte will be christiend next month.
~ If apps used pickup lines.
~ How the dinosaurs in the latest "Jurassic Park" installment are more scientifically accurate than previous iterations.
~ Suge Knight is being sued for assaulting a photographer.
Send tips/quips/quotes/stories/photos/events/scoops to Lauren Weber at lauren.weber@huffingtonpost.com. Follow us on Twitter @LaurenWeberHP. And like what you're reading? Sign up here to get The Morning Email delivered to you.