Amy Schumer reminded all of us in April why she deserved a spot on Time Magazine's 100 Most Influential People list: because of her epic Kimye prank.
Remember when Schumer threw herself onto the red carpet at the Time 100 Gala in front of Kanye West and Kim Kardashian? Of course you do, but here's a refresher just in case: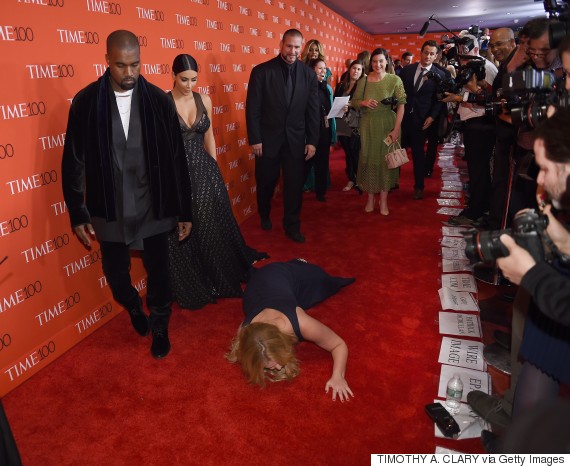 On "The Graham Norton Show" on Friday, the host asked Schumer whether or not the prank made West smile. Schumer confirmed that the "All Day" rapper definitely did not break his usual "sad Kanye" face. But she noted that later on, West did sort of smile at Schumer -- while she was nervously lying to his wife.
The comedian told Norton that when meeting the couple during the gala itself, she became completely fake. "You know when you're in front of a celebrity?" Schumer said. "I become such a flake, I was just saying things I don't mean."
"'You and your sisters, they're just inspiring,' just nonsense," the comedian recalled saying to Kardashian.
West, Schumer said, was smiling during that charade, "but as if you programmed a robot to smile." It definitely wasn't this kind of Kanye smile.
BEFORE YOU GO
PHOTO GALLERY
Celebrity News & Photos