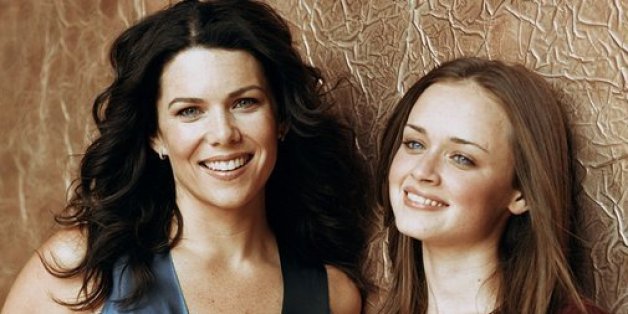 There have been hints at more "Gilmore Girls" for a while now. Most recently, Scott Patterson, who played Luke, told The Huffington Post, "I don't want to give the fans false hope. ... I will say there have been some conversations."
Leading up to Saturday's "Gilmore Girls" reunion panel at the ATX Television Festival in Austin Texas, Patterson continued to imply something was in the works.
Alas, show creator Amy Sherman-Palladino set the record straight.
"I'm sorry, there's nothing in the works at the moment," she said at the panel.
Patterson went on to babble something about a "[Warner Brothers] hit man" coming for him and fumbling an excuse about thinking fans deserve a movie. "It's time," he said.
To be fair, continuing "Gilmore Girls" is something Sherman-Palladino and her husband, Dan Palladino, have wanted to do since they left the show prior to Season 7. As the WB became the CW, the two attempted to renegotiate their contract so that it would no longer be on a year-by-year basis, leaving when executives wouldn't meet their wishes.
"We got frozen out," Sherman-Palladino told Entertainment Weekly in April 2006. "It was like 'Footloose,' when they're revvin' up the tractors, playin' chicken. It took too long and before everyone knew it, we were loading our desks on a truck and driving off the lot."
Almost as soon as she left, Sherman-Palladino said she had mapped out how things would have ended for main characters Lorelai and Rory, right down to the last four words of the show. But that information is something she refused to reveal because it would have been unfair to the Season 7 writers -- and to her, should she have ever decided to make a "Gilmore Girls" movie.
"I don't want to totally say [what my ideas were]," she told EW in 2009. "Because if there is a movie in the making, I'm going to be basically delving back into where I left off, and then I'm kind of [screwed]."
Even though we know there aren't any plans for a movie, it's still likely those legendary last four words will continue to be kept secret.
"On my death bed, Mike Ausiello will be over my face," Sherman-Palladino said at the panel, referencing the reporter who has continually asked her about them over the years. "And he won't let me go until I say those last four words."
We'll just have to be satisfied with her new Amazon series and musical.
BEFORE YOU GO
PHOTO GALLERY
12 Things You Never Knew About "Gilmore Girls"