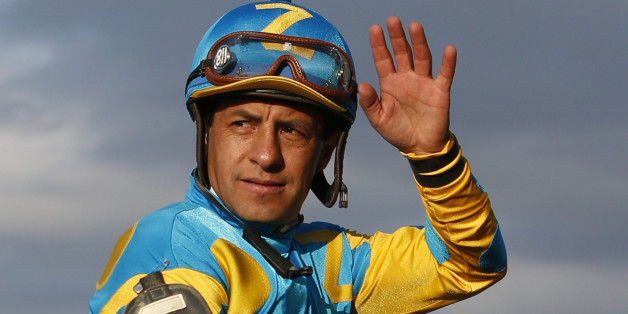 After a monumental victory at the Belmont Stakes, champion jockey Victor Espinoza is celebrating in a charitable way.
Racehorse American Pharoah made history at the Belmont Stakes on Saturday when he became the first horse to win the Triple Crown in 37 years. And while Espinoza earned a reported $80,000 from the event, the athlete won't be spending the money on himself.
After paying his agent and assistant, Espinoza plans to donate his winnings to City of Hope, a research and treatment center that aims to fight cancer and other life-threatening illnesses, ABC News reported.
"I won the Triple Crown right now but I don't make any money because I'm donating all the money to the City of Hope," the jockey said, according to the outlet.
American Pharoah's trainer, Bob Baffert, and his wife, Jill, will also donate their winnings to three different organizations, according to the Courier-Journal. The couple plans to give $50,000 each to the Permanently Disabled Jockeys Fund; the California Retirement Management Account, a nonprofit that helps retired California racehorses; and Old Friends Farm, a thoroughbred retirement facility.
"I want to share this, I want to make sure that those horses that we really love, we have to take care of them," Baffert said of his charitable decision, according to the Courier-Journal. "Win, lose or draw, I was going to do it."
Espinoza has supported City of Hope in the past, by donating portions of his winnings, and visiting patients at the organization's campus in Duarte, California.
"The kids 6 years old, 10 years old, it's just heartbreaking," the jockey told Newsday of his experience. "They have no idea what they're missing in life. But believe it or not, they're the happiest people. When I went to visit them twice, it was amazing to see them, how happy they were."
While City of Hope noted the jockey's charitable intention on its website, as of Monday afternoon the group had yet to confirm the donation, telling ABC News that it's "currently celebrating Mr. Espinoza's remarkable achievement and has not yet communicated with him officially about his donation."
BEFORE YOU GO
PHOTO GALLERY
Therapy Horses