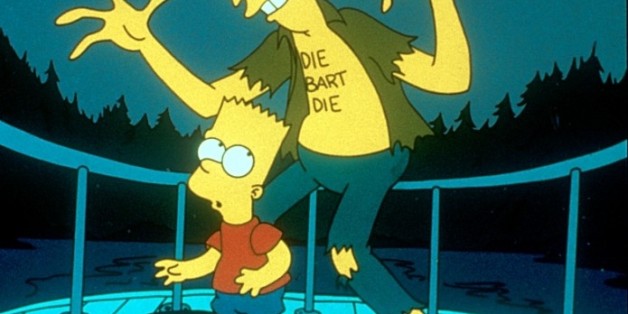 Bart Simpson is going to die this fall, but don't have a cow just yet: His death will last for just one episode.
Longtime "Simpsons" villain Sideshow Bob will kill Bart during this year's "Treehouse of Horror" episode, Simpsons writer/producer Al Jean revealed during a panel discussion at the ATX Festival in Austin.
"You're going to see Sideshow Bob do something he's wanted to do for a long time," Jean explained in an interview with Entertainment Weekly Radio.
Jean said Kelsey Grammer will return to voice Sideshow Bob, who has been a "Simpsons" nemesis since a 1990 episode in which his plot to frame Krusty the Clown for robbery was exposed by Bart. Sideshow Bob swore revenge, and has been pretty much been trying to kill the boy ever since.
This year, he'll finally succeed ... at least for the show's annual Halloween special.
"I'm one of the people that always wanted the Coyote to eat the Roadrunner so you can see where this is going," Jean said. "When I was a kid, I wanted the rabbit to get the Trix... I hated frustration comedy so we'll scratch that itch on the Halloween special."
Since the "Treehouse of Horror" episodes generally don't share the same continuity as the rest of the "Simpsons" universe, you can expect to see Bart no worse for the wear in future episodes.
Just in case there's any confusion over that, Jean clarified on Twitter:
@jamalnyc33 @TheSimpsons Yes absolutely we're not nuts.

— Al Jean (@AlJean) June 7, 2015
The episode's airdate has not yet been released; however, the "Treehouse of Horror" is traditionally broadcast in either October or early November.
Although "The Simpsons" was recently renewed for two more seasons, there could be some changes afoot. Last month, Harry Shearer said he would not be returning to the show, where he voices a host of characters, including Mr. Burns and Ned Flanders.
Jean said during the panel discussion that they were still hoping to strike a deal with Shearer, according to EW.
BEFORE YOU GO