A therapy dog that dresses like a biker and rides a mini motorcycle has been stripped of his therapy license due to his outfit.
"Chopper the Biker Dog," a 5-year-old Boston terrier, has been making people in hospitals, hospices and nursing homes smile for nearly his whole life, his owner, Mark Shaffer, told The Huffington Post.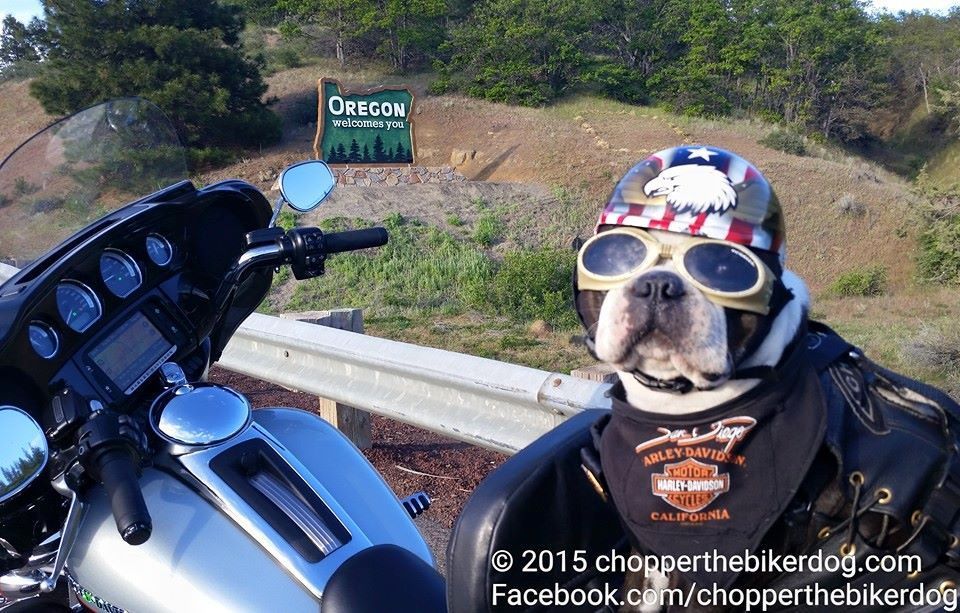 Photo: Facebook.com/ChopperTheBikerDog
The dog, who primarily works in the San Diego area, rides on Shaffer's motorcycle in a special seat, wearing a leather vest and canine protective goggles. Sometimes, he rolls into the rooms of sick people on a mini doggie motorcycle.
"At three months old he started riding that little bike," Shaffer said. "He knows it, he likes it."
Shaffer says Chopper is so popular that people across the country specifically request him. Last month, Shaffer and Chopper embarked on a tour up the West Coast, largely visiting patients and their families who had contacted Shaffer and asked if Chopper could come and meet them.
"Chopper takes therapy to a whole different level," Shaffer said. "Therapy is trying to do something good and make somebody feel good … it's about doing something positive for someone."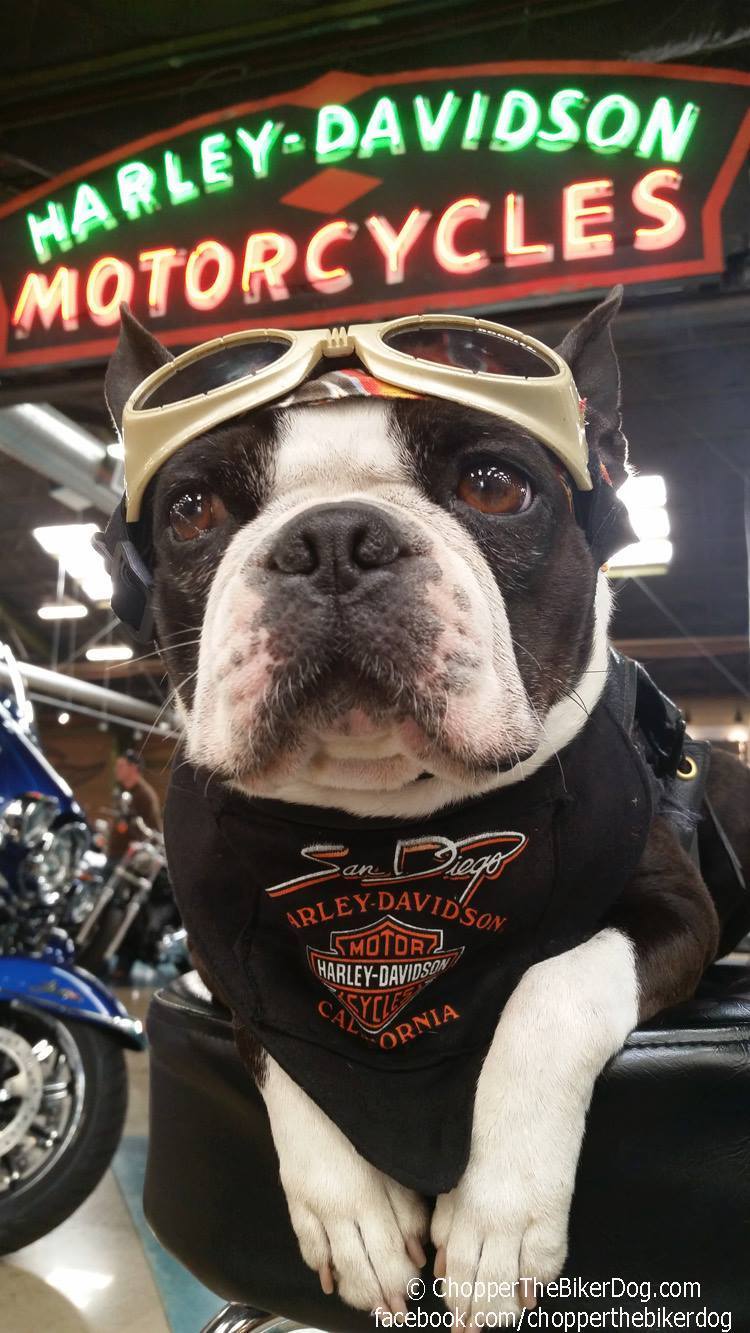 Photo: Facebook.com/ChopperTheBikerDog
Just a few days after returning from the tour, though, Shaffer received an email from Pet Partners, a nonprofit group that evaluates and insures therapy animals, reminding him that their policy prohibits therapy animals from wearing costumes "for the safety of the clients and the animals." Two days later, Shaffer was informed that his registration with Pet Partners was being suspended.
A costume is "just not appropriate for going to the hospital," Glen Miller, Pet Partners director of communications, told HuffPost. "It impairs the animals' ability to see, to move, to respond. [Costumes can] confuse people that we visit."
Pet Partners, Miller said, follows the guidelines established by the International Association of Human-Animal Interaction Organizations, which he says specifies therapy animals must not wear costumes.
Miller noted that Pet Partners does not wish to regulate what Chopper wears or does "in his free time." However, he said, as long as Chopper is certified with Pet Partners, he must abide by the group's policies when he is working as a therapy animal inside hospitals and similar establishments, even if the visit is not publicized as being connected with Pet Partners.
Some people have speculated Chopper was suspended due to a prejudice against bikers fueled by the May biker gang shootout in Waco, Texas. However, this is impossible -- Chopper's suspension letter, obtained by HuffPost, was dated May 14, three days before the Waco incident.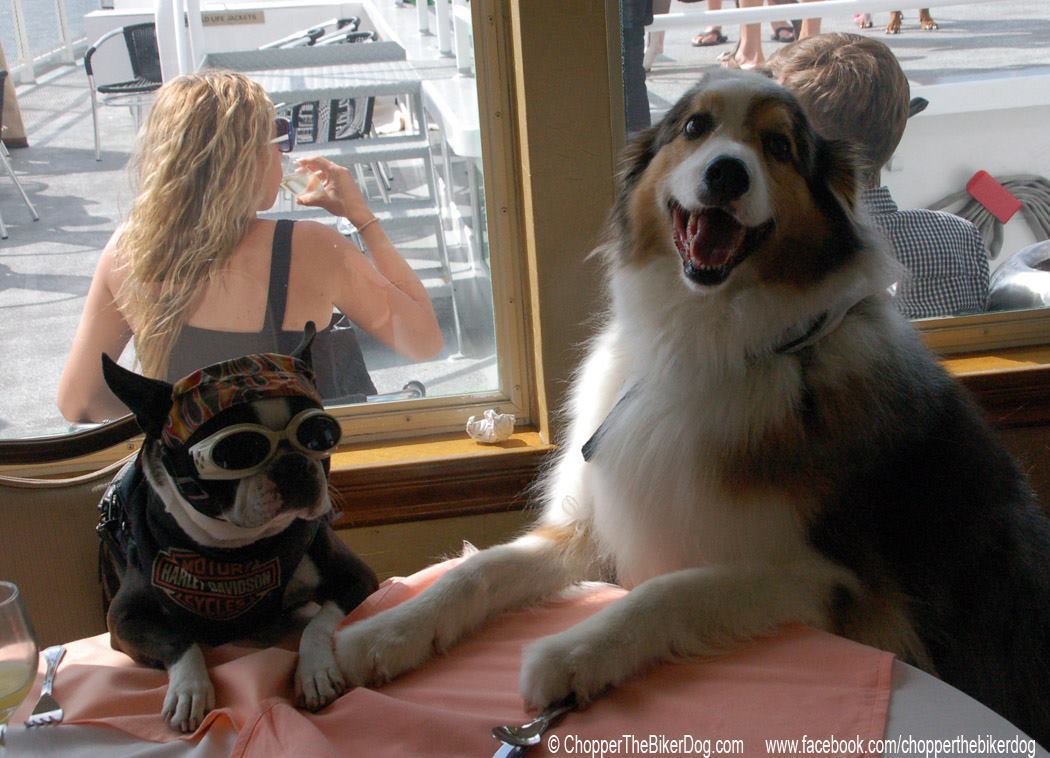 Photo: Facebook.com/ChopperTheBikerDog
Shaffer, who is a realtor and works with Chopper on a volunteer basis, believes his dog's outfit is crucial to his therapy work. The dog's goofy persona goes a long way to bringing joy and laughter to those in need, he said.
He said the vest and goggles do not restrict Chopper, and notes that he removes Chopper's goggles when the dog is interacting one-on-one with a patient.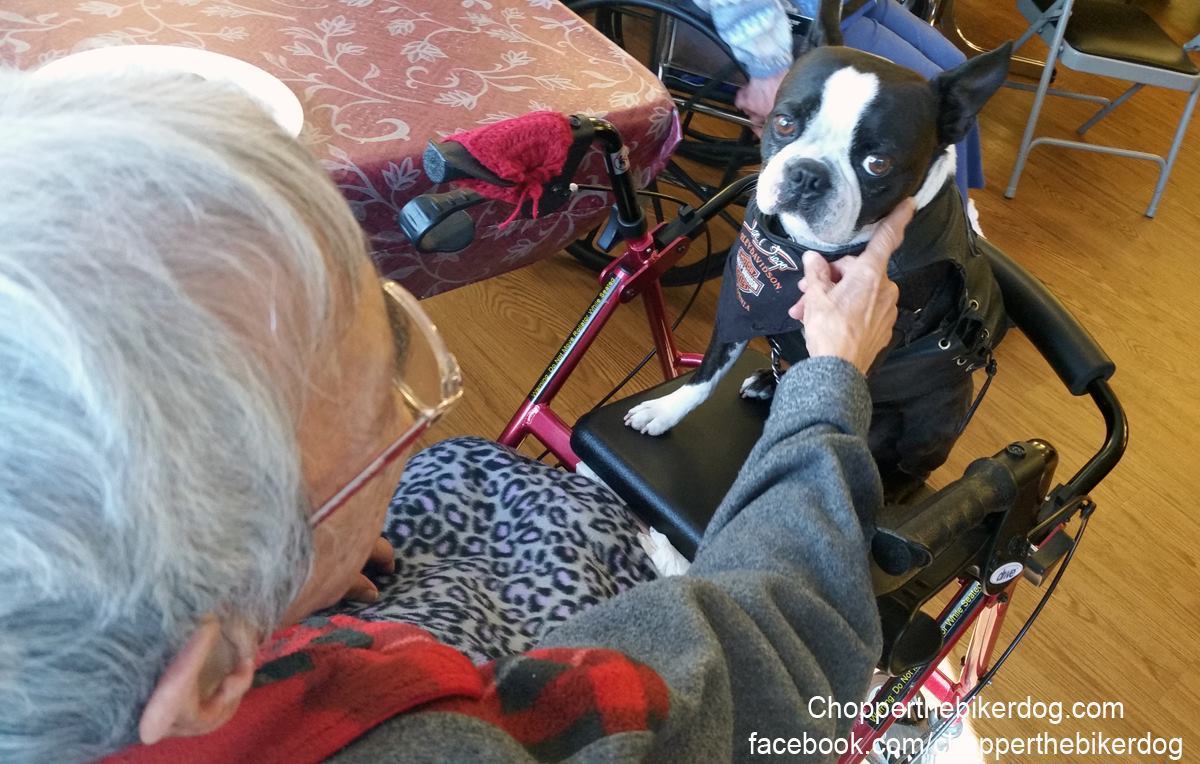 Photo: Facebook.com/ChopperTheBikerDog
He also argues that what Chopper wears isn't even technically a "costume." Since the dog actually does ride a motorcycle, Shaffer says, when he wears his vest and goggles, "he's being himself."
Legally, Chopper does not actually need to be registered with Pet Partners, or any organization, to work as a therapy dog. However, Miller explained, many hospitals and other organizations choose to employ therapy animals that have been registered because they know those animals are insured and have been professionally evaluated.
Shaffer said he is looking to register Chopper with other organizations, but in the meantime, the pup will simply be making the rounds sans license.
"He brings a little bit 'extra' to pet therapy," Shaffer said.
Like Us On Facebook |

Follow Us On Twitter |

Contact The Author
BEFORE YOU GO
PHOTO GALLERY
Chopper the Biker Dog