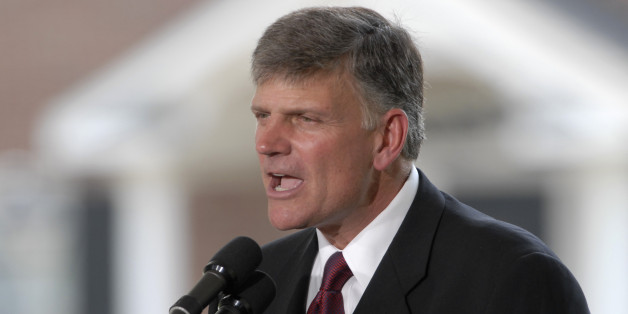 Franklin Graham is calling on Christians everywhere to boycott LGBT-friendly companies after Wells Fargo bank released an ad that clashed with his personal beliefs.
On Friday the prominent evangelist announced that the Billy Graham Evangelistic Association (BGEA), of which he is president and CEO, is moving its accounts from Wells Fargo to another bank due to the bank's recent ad featuring a lesbian couple.
Find out why we're moving all the @BGEA bank accounts from @WellsFargo to another bank: http://t.co/4GVlqFe97Z

— Franklin Graham (@Franklin_Graham) June 5, 2015
Graham also posted on Facebook, encouraging Christians to use their spending power to take a stand against LGBT-friendly companies. "Tiffany's started advertising wedding rings for gay couples. Wells Fargo bank is using a same-sex couple in their advertising. And there are more. But it has dawned on me that we don't have to do business with them," the evangelist wrote.
"At Wells Fargo, serving every customer is core to our vision and values," Wells Fargo spokesperson Christina Kolbjornsen told The Charlotte Observer on Monday in response to Graham's post. "Diversity and inclusion are foundational to who we are as a company. Our advertising content reflects our company's values and represents the diversity of the communities we serve."
Religion News Service writer Eliel Cruz noted the irony of Graham making his statement on Facebook, a company that openly supports gay marriage. Facebook is just one of many pro-LGBT companies, the long list of which includes Google, Microsoft, Amazon, Nike and countless others.
Graham has long spoken out against homosexuality and same-sex marriage -- and appears to be putting his money where his mouth is with this recent announcement.
In a March 2013 interview with Charlotte Observer, the evangelist went on a tirade against same-sex couples adopting, saying, "You can adopt a child into a marriage, but you can also recruit children into your cause. I believe in protecting children, OK? From exploitation, all exploitations."
Graham is no stranger to forcing beliefs on people, so perhaps he was speaking from experience. But whether he's planning on abandoning Google and Facebook to promote the anti-gay cause stands to be seen.
BEFORE YOU GO
PHOTO GALLERY
Statements On LGBT People From Faith Leaders