President Obama said the Supreme Court should never have taken up King v. Burwell, probably just to see what Samuel Alito will mouth at him at the next state of the union. The president was also criticized for "manspreading," but maybe he was just trying to show off his lack of a dadbod. And the high court ruled that since the U.S. recognizes Jerusalem as an international zone, a child born there can't list Israel as his birthplace. If it's any consolation to that boy, he can now say he's a "citizen of the world" and only sound *slightly* like a tool. This is HUFFPOST HILL for Monday, June 8th, 2015:

Technical difficulties forced us to send today's HuffPost Hill a little late. Apologies.
TPP OUTCOME STILL UNCERTAIN AS LABOR MAKES LAST-MINUTE PUSH - Which means you can expect another 500 emails from Elizabeth Warren titled 'need you now' over the next few days. Lauren French: "Union leaders are making a final push to scuttle controversial trade legislation by pressuring on-the-fence Democrats to vote against the measure when the House takes it up -- which could come as early as this week. The Coalition to Stop Fast Track announced Monday that labor leaders, including the AFL-CIO, will buy TV ads in congressional districts nationwide where Democrats have announced intentions to vote for or are still deciding whether to support President Barack Obama's request for authority to 'fast-track' trade deals through Congress...Progressives will also hold a protest outside Minority Leader Nancy Pelosi's San Francisco office on Tuesday to urge the California Democrat to oppose fast-track. Pelosi has avoided weighing in on the Trade Promotion Authority debate beyond saying that she is seeking a 'path to yes.' Labor unions are closely watching Pelosi and expect her to oppose the measure. Organizers are expecting roughly 100 attendees at the rally." [Politico]
The Washington Post did a very, very thorough story about the snow shovels Hillary Clinton gave Iowa voters in 2008.
DAILY DELANEY DOWNER - Judy Beals of Belleville, Wisconsin, was getting ready to pay for her groceries at the store earlier this year when she found out that her monthly food stamp benefits had been slashed from $120 to $16. "I was never even notified," Beals, 65, said. Calling around to various state offices, she said she was told her benefits would not have gone down if she had been able to document her heating costs by providing the state with a utility bill. In an effort to reduce spending on the Supplemental Nutrition Assistance Program, Congress last year passed a law changing the way states can factor in utility costs to determine food stamp eligibility. Most of the states affected by the provision took action to prevent benefits from being cut; Wisconsin did not. "This isn't good for me. I'm eating once a day," Beals said. "I would love to be able to pay my bills, but I couldn't because the FoodShare thing made everything start to fall apart." [HuffPost]
Does somebody keep forwarding you this newsletter? Get your own copy. It's free! Sign up here. Send tips/stories/photos/events/fundraisers/job movement/juicy miscellanea to huffposthill@huffingtonpost.com. Follow us on Twitter - @HuffPostHill
SCOTUS RULES IN JERUSALEM PASSPORT CASE - Benjamin Netanyahu should've filed an amicus brief just to further enrage the administration. Ariane de Vogue: "The Supreme Court struck down part of a federal statute Monday that allowed Americans born in Jerusalem to record in their passport 'Israel' as the place of birth. The 6-3 decision is a victory for the Executive, and a loss for Congress and the 12-year-old boy caught in the middle of a separation of powers dispute. For the last 60 years, the United States policy has been to recognize no state as having sovereignty over Jerusalem. Justice Anthony Kennedy, who wrote the opinion, held that 'over the last 100 years, there has been scarcely any debate over the President's power to recognize foreign states.' Kennedy said that it was 'clear' that in the statute at issue in the case, 'Congress wanted to express its displeasure with the President's policy, by among other things, commanding the Executive to contradict his own, early stated position on Jerusalem. This Congress cannot do.'" [CNN]
Everybody was fussing about this strange John Thune tweet lamenting the Supreme Court's threat to Obamacare.
Damn, Barack Obama: "President Barack Obama said the Supreme Court should not have taken up the challenge to the Affordable Care Act in King v. Burwell. 'This should be an easy case. Frankly, it probably should not even have been taken up,' Obama said during a press conference at the G-7 summit in Germany. When asked whether the administration had a 'plan B,' in the event that the Supreme Court strikes down subsidies in states that do not run their own health insurance exchanges, Obama said there are no easy solutions. 'You have a model where all the pieces connect,' he said. 'And there are a whole bunch of scenarios -- not just with relation to health care but all kinds of stuff I do -- where if somebody does something that does not make any sense, it is hard to fix. This would be hard to fix.'" [HuffPost's Daniel Marans]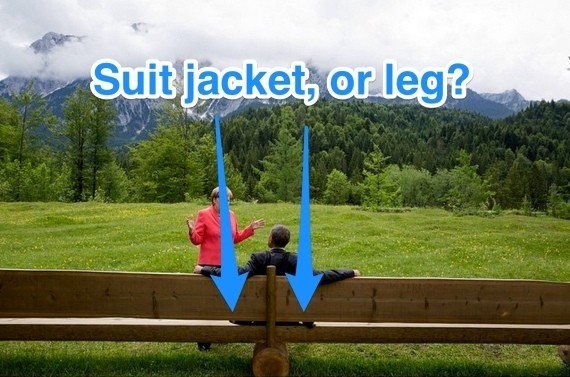 Maybe the president did manspread in this photo, but at least he didn't rub her shoulders. #notallpresidents.
SENATORS MAKE RENEWED PUSH FOR AUMF VOTE - Wars have fought in less time than Congress' has been debating whether to approve a war. Jen Bendery: "Congress has demonstrated for months that it has no appetite for taking a tough vote on authorizing the war against the Islamic State group. But on Monday, two senators introduced a bipartisan Authorization for the Use of Military Force in an effort to force a debate on the duration, costs and endgame of a military campaign that's already been underway for 10 months. Sens. Tim Kaine (D-Va.) and Jeff Flake (R-Ariz.) unveiled their proposal exactly 10 months after the U.S. began bombing the Islamic State, also known as ISIS or ISIL. Kaine has been a vocal proponent of a congressional debate and vote on authorizing the war, but Flake has been relatively quiet until now." [HuffPost]
HILLARY IN TOWN FOR LGBT FUNDRAISER - Emphasis on the "L." Jen Bendery: "Hillary Clinton will be in Washington, D.C., on Monday night for a fundraiser hosted by and attended by predominantly lesbian supporters. About 120 people are expected to attend the event, which is being billed as 'an intimate fundraiser' at the Woman's National Democratic Club. The cost to attend is $2,700 per person. For the more generous, those willing to bundle $27,000 ahead of the event also get to attend a special reception with Clinton. The event is being hosted by Claire Lucas and her partner, Judy Dlugacz, who founded a travel company called Olivia, which sells cruises targeting the lesbian community. Lucas told The Huffington Post that she and Dlugacz decided a couple of weeks ago that they wanted to do something to support Clinton's presidential run, so they started reaching out to their network of contacts to gauge interest. The result is Monday's event, which Lucas estimates will be about 75 percent lesbian attendees from around the country. That's atypical for an LGBT political fundraiser, which are by and large organized and attended by gay men." [HuffPost]
This week's Trail to the Chief looks at the best broadsides against Rand Paul: "Team McCain's 2016 entrant was unsparing, suggesting that a Paul nomination would mean a 2016 loss for the GOP, to Hillary Clinton: "I think [Clinton] would be able to tear him apart because his view of foreign policy is one step behind leading from behind, and at the end of the day the average American sees radical Islam as a threat much greater than the NSA." [HuffPost's Howard Fineman, Jason Linkins and Lauren Weber]
NSA RESUMES PEERING THROUGH YOUR CURTAIN FROM SHRUBS - Telephonically speaking, that is. Julian Hattem: "The National Security Agency (NSA) is taking steps to turn its massive collection of Americans' phone records back on. After President Obama signed legislation last week to end the controversial program, the Justice Department submitted a legal memorandum to the secretive federal court justifying authorization for the NSA collection for another six months, as the new law allows. '[T]he government respectfully submits that it may seek and this court may issue an order for the bulk production of tangible things' under the law, 'as it did in... prior related dockets,' the Justice Department said in its memo. The legal analysis was submitted on Tuesday, less than an hour after the White House announced that the president had signed the USA Freedom Act into law. The memo was not revealed to the public until Monday." [The Hill]

And for our next performance, three golden retrievers will explain how Congress and the White House reached an agreement on the USA Freedom Act.
BECAUSE YOU'VE READ THIS FAR - Here's a hippo helping a duckling.
DAN COATS LIKES PICKLES - Also, is "Pickles" not the most perfectly appropriate nickname for Tom Cotton? Jennifer Steinhauer: "Senator Dan Coats, Republican of Indiana, falls several grins short of a giddy man. He lopes through the halls of the Capitol as if he has just emerged from a weighty briefing at the Select Committee on Intelligence. But scanning a table of house-made pickles, spicy shrimp cocktail sauce and three sugar cream pies from Indiana to feed fellow Republicans on a recent Thursday, Mr. Coats was nearly elated. 'This is the home run I had been hoping for,' Mr. Coats said before offering an exposition on the history of the pie. (It is a Hoosier winter treat invented in the absence of fruit, he said.) It was Mr. Coats's turn to provide lunch for Thursday's group, a weekly meeting of Republican senators catered by the host's home-state restaurants, takeout joints, bakeries and the like, during which the lawmakers hash over major issues (with extra napkins)." [NYT]
COMFORT FOOD
- Muppets sing "Shimmy Shimmy Ya"
- Behind the scenes, literally, of SNL costume changes.
- Cat plays with a theremin, which would make for a great instillation at the next Whitney biennial.
TWITTERAMA
@drvox: Political will is the underpants gnomes of the analyst world.

@Mr_Berman: "Hi, I'm with CNN. We're looking to book a guest with controversial thoughts on the latest police incident. Yep, white guy with no neck"

@redsteeze: "And zen he vent like zis & all ze dead people came back to life."
Got something to add? Send tips/quotes/stories/photos/events/fundraisers/job movement/juicy miscellanea to Eliot Nelson (eliot@huffingtonpost.com) or Arthur Delaney (arthur@huffingtonpost.com). Follow us on Twitter @HuffPostHill (twitter.com/HuffPostHill). Sign up here: http://huff.to/an2k2e