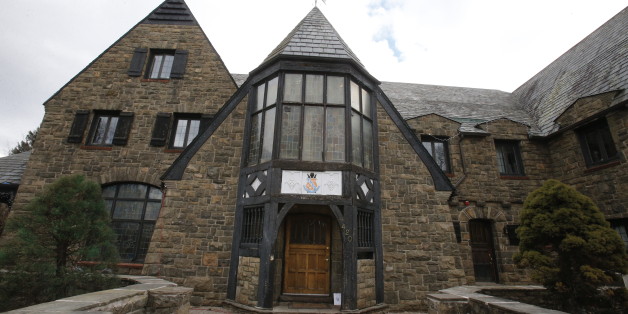 The national leadership of the Kappa Delta Rho fraternity said Monday it expelled 38 members of its chapter at Penn State University for their roles in misconduct uncovered during a school investigation this year, just as the whistleblower in the case announced a lawsuit revealing more alleged illegal behavior at the frat house.
The investigation launched in March after police started looking into two private Facebook pages maintained by members of the Penn State KDR house that discussed use and sale of illegal drugs and distributed nude photos of unconscious women. The university probe uncovered hazing, sexist behavior, drug use and harassment of members and non-members alike -- all of which James Vivenzio said he told the school about a year earlier.
Vivenzio, the former member who alerted cops in January to the Facebook pages, said Monday he's suing Penn State over the hazing he endured in KDR. He claims in the suit he was burned with cigarettes, physically beaten by larger members and forced to drink liquor mixed with urine and hot sauce.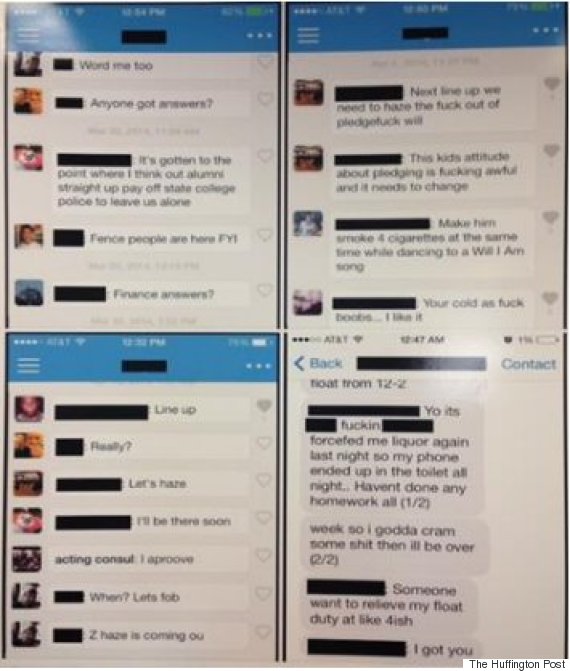 Screenshots of messages included in James Vivenzio's lawsuit against Kappa Delta Rho and Penn State.
KDR "operated like a gang," funding social events by selling prescription drugs, the suit claims. The Facebook pages with photos of nude, unconscious women also included images of females being sexually assaulted, Vivenzio asserted. He said in April 2014, he provided information about the Facebook page and "clear evidence of the unlawful and dangerous hazing activities" to Penn State officials, who promised to launch an investigation, but then "did absolutely nothing."
As a result of this experience, Vivenzio said, he had to take time off of school for counseling and now suffers from anxiety.
"I still do not know why the administration will not come right out and state that it dragged its feet after I followed the rules -- including first going to the hazing hot line and then meeting with its chief investigator -- Danny Shaha -- before forcing me to go to the police," Vivenzio said.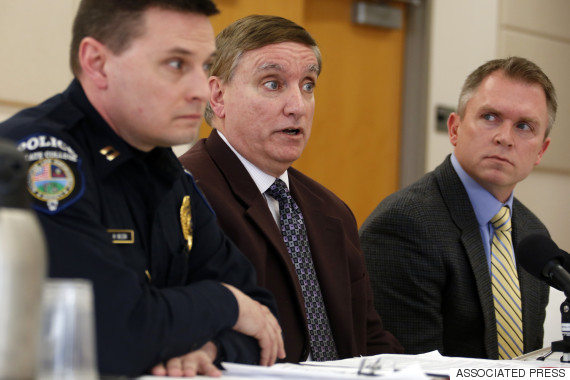 Danny Shaha, senior director of the Penn State Office of Student Conduct, right, and Matt Wilson, State College, Pennsylvania, police, left, listen as John Gardner, State College, Pennsylvania, assistant police chief, center, comments during a news conference on March 17, 2015.
Penn State disputed the allegation that the university did not act on Vivenzio's report of alleged illegal activity at the frat.
"Neither he nor his family were willing to file a complaint, provide documentation, speak with State College Police or participate in pursuing the formal disciplinary process available to them, despite repeated encouragement from University staff," the university said in a statement. "Mr. Vivenzio also did not inform Penn State staff members of a private Facebook group. University officials became aware of its existence when informed by State College Police in February 2015."
Penn State last month revoked its recognition of the fraternity for three years. On Monday, the national KDR office said it would also revoke the charter and recognition of the Penn State chapter for three years, in addition to its expulsion of 38 members from the fraternity.
"Our review was guided by a deep commitment to our values, among which is respect for all persons at all times," KDR National Executive Director Joseph Rosenberg said in a statement Monday. "It is clear that the conduct of some members of our Penn State chapter did not meet this standard."
The remaining brothers at Penn State now become alumni members, the national headquarters said.
The national office said it does not comment on pending or active litigation.
KDR noted it is going to use the sexual violence prevention program Campus Clarity to "provide training for our membership that will facilitate a broad educational program that is not solely a prevention effort." It also joined a consortium of national organizations that maintains a hazing hot line in March.
The women in the nude photos have said they don't plan to press charges against the fraternity members.
This story has been updated to include comments from Penn State.