Things were looking good for the Golden State Warriors heading into Game 2 of the NBA Finals against the Cleveland Cavaliers on Sunday.
The Warriors were up 1-0 in the series, and two of the opposing team's top three players, Kevin Love and Kyrie Irving, were out for the series with various injuries. Former league MVP LeBron James appeared very off before the game, and current league MVP Stephen Curry appeared very on.
Then the game started, and things still seemed easily within grasp. The Cavs were often up or at least within striking distance, sure, but Klay Thompson was going off, and Stephen Curry, while a little off in the more negative sense of the term, was doing Stephen Curry things.
The score was close somehow, but it seemed clear that the NBA's best regular season team would pull it out, as they so often do. Things just seemed to be going the Warriors' way. For example, Draymond Green blocked LeBron on a dunk.
Curry made a layup to send the game into overtime.
The refs "didn't see" a crucial late-game foul on LeBron.
Riley Curry was being all cute.
But, wait. Sorry to interrupt this regularly scheduled programming. We have forgotten to mention the most important "X factor" in the series. It seems we have somehow gone this entire post without mentioning the one player willing to take Cleveland sports on his back and ride off into the sunset. No, we're not talking about the kid from Akron. Who are we forgetting? Someone appears to be missing. Wait, what's that strange beat in the background? What's that rhythm? OH, IS THAT MATTHEW DELLAVEDOVA'S MUSIC?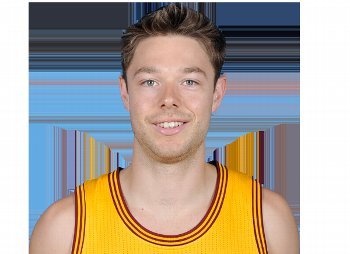 A living legend. (Source: NBA.com)
MOVE OVER, LEBRON, THERE'S A NEW KING IN TOWN.
In 42 minutes, the 6'4" Australian hero shot just 3-10 with one assist and six turnovers, yet he was still one of the most important reasons the Cavaliers are heading back to Cleveland tied 1-1 after a 95-93 overtime win. How could this possibly be? It's quite simple. Dellavedova is hungry, and his favorite food is curry.
Wow. RT @Lizzs_Lockeroom D-ellavedova pic.twitter.com/UHq1B6nrNY

— PJ (@pjhoody) June 8, 2015
That's right, who was that guarding Curry as he hoisted missed shot after missed shot, including an air ball that would have given his team the lead with just seconds left in overtime? Dellavedova, of course.
Sorry, did you not hear us the first time? WE SAID DELLAVEDOVA, OF COURSE.
THIS IS MY NEW FAVORITE GIF pic.twitter.com/hUxXGlROHS

— ClevelandFanz (@Cleveland_Fanz) June 8, 2015
Who's your daddy? pic.twitter.com/YfO4L5glRI

— Meninist (@MeninistTweet) June 8, 2015
Our lord and savior #ALLinCLE pic.twitter.com/NiA4ldPePA

— Nicholas (@NickatN1te) June 8, 2015
Dellavedova's not just the Curry stopper either. He also knew that with time winding down in overtime, he needed to catch the biggest offensive rebound of his life, and attempt a near-impossible putback before sinking both free throws with just seconds left. Fear? Dellavedova has never heard of such a thing.
Some people just have a sense of the moment.
After the game, Dellavedova's sidekick, LeBron James, gave the team's MVP the respect the national media has been unwilling to bestow on him.
James Jones handshake vs. Dellavedova handshake 😂😂💀💀 pic.twitter.com/iogWybJhyA

— Robbie (@mashall5) June 8, 2015
Ladies and gentlemen, say hello to the greatest basketball duo since Jordan and Pippen.
James helped Dellavedova secure the victory by chipping in 39 points, 16 rebounds and 11 assists.