Mountain climbers on Mexico's highest peak discovered the mummified remains of a young man last week, making it the third such grisly find on Pico de Orizaba this year.
Juan Navarro, mayor of the nearby town Chalchicomula de Sesma, said the body was found at an elevation of about 17,000 feet, according to EFE and AFP news agencies. Pico de Orizaba is nearly 18,500 feet high and is the third-highest peak in North America.
The remains, which were found on the opposite side of the mountain from two other bodies discovered earlier this year, likely belong to a young man who died in a plane crash, Navarro said.
The man appears to have died about 15 years ago when he was 25 years old, the BBC reported. He was not dressed for the harsh mountain conditions, and his remains were found with only a shirt, sweater and pants.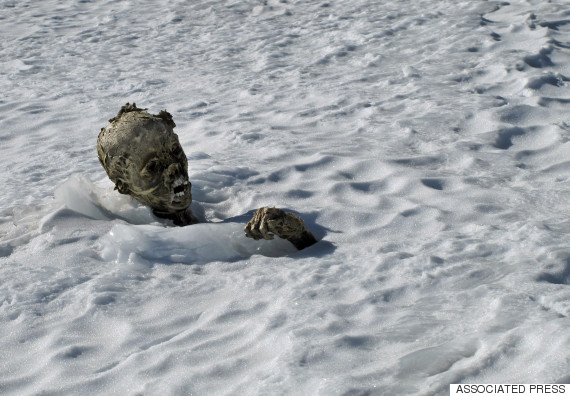 This photo shows one of the two bodies found on Pico de Orizaba on February 28, 2015. (AP Photo/Israel Mijangos Q.)
The two dead bodies found earlier this year are likely the remains of two climbers who went missing on a 1959 expedition.
Pico de Orizaba is home to some of Mexico's last remaining glaciers and the country's largest one, the Gran Glaciar Norte. The glaciers are melting away, and scientists continue to study the speed of the melting and the contribution from climate change. Glacier retreat may be one of the reasons the three mummified bodies were exposed this year.
BEFORE YOU GO
PHOTO GALLERY
Mummy Mysteries Revealed In CT Scans