Jahi Bakari, the father of a girl who was present at a pool party in McKinney, Texas, that was broken up by police on Friday, demanded the officer who pulled a gun on the teens be fired.
"This guy was just out of control," Bakari said at a press conference on Monday.
"He shouldn't keep his job, and I'm not going to stop until he is fired," Bakari added.
Bakari said he was thankful McKinney Police Corporal Eric Casebolt didn't shoot his gun despite pointing it at two teen boys.
"He pulled the gun out on teenagers. That's the one thing I give him credit for: he didn't pull the trigger," Bakari said, according to NBC New York. "If he had, this McKinney would be another Ferguson 100 times over."
Bakari said it's not fair to blame the entire department, since some officers acted appropriately while responding to calls about the pool party. But he did take to his Facebook page on Sunday to speak out against the officer's actions and call for him to be fired: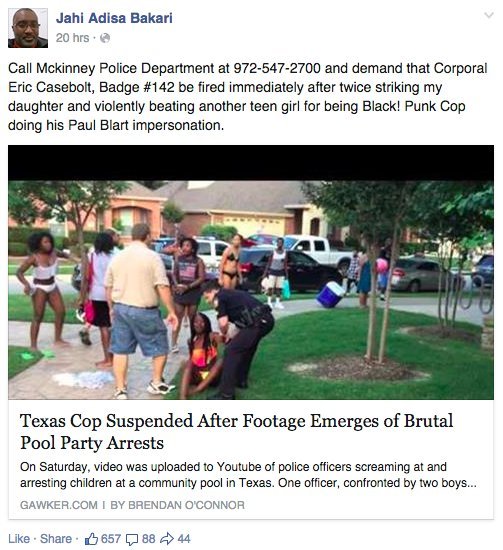 Others have called for Casebolt to be fired, including the Next Generation Action Network. Casebolt was suspended Sunday after a video of the pool party incident went viral.
Bakari said he can't blame his daughter Jahda for her actions because he's been taught to run from the police.
"Being a black man, [if] I see the cops I'm running," Bakari said.
Julia Craven contributed to this report.