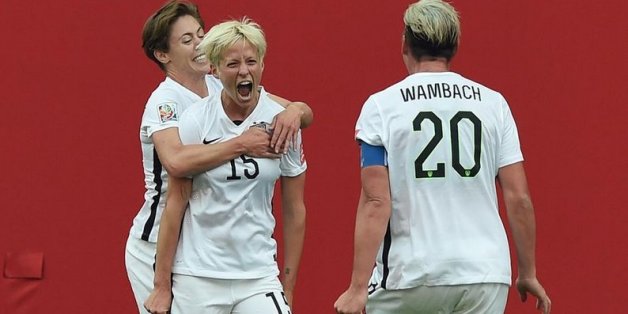 We had to wait three days to see the U.S. Women's National Team take the pitch, but the ladies did not disappoint, defeating Australia 3-1 in their first match of FIFA's Women's World Cup on Monday.
The U.S. took control of the game right out of the gate with goalkeeper Hope Solo setting the tone with this brilliant save...
...followed by a goal from Megan Rapinoe in the 12th minute of play.
But the Aussies answered back just 15 minutes later…
However, this is Red, White and Blue we're talking about here. And Christen Press and Rapinoe both connected for another pair of goals in the 61st and 78th minute, respectively.
The last time a U.S. women's player had two goals in a single game during the Women's World Cup came courtesy of Rapinoe's teammate, Abby Wambach during the 2007 third-place match against Norway.
Following the match, Rapinoe said she and her teammates had moments of nervousness and she was "a little relieved i think more than anything" after scoring the first goal.
And if you needed another reason to be excited about Team USA, this win surely adds to it.
"It's huge, onto the next," Rapinoe said.
The 3-1 win puts Team USA at the top of Group D, which in addition to Australia, also includes Nigeria and Sweden, who tied 3-3 in an earlier match on Monday.
The U.S. next faces Sweden on Friday. GAME ON.